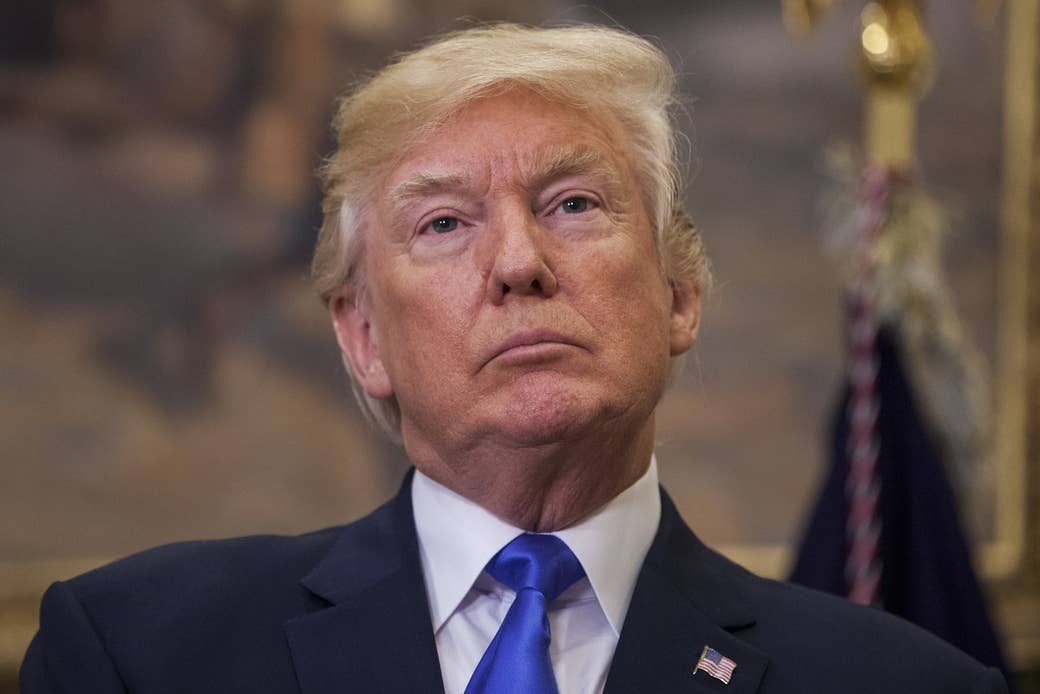 Here's what's happening in DC this week:
President Trump is set to begin a 17-day vacation on Friday at his golf club in New Jersey, according to reports. The White House won't confirm his plans.
Trump signed a sanctions bill Wednesday against Russia for meddling in the 2016 elections — without the usual cameras or press coverage.
After the bill passed Congress, Russia over the weekend ordered the US to reduce its diplomatic staffing by 733 people. Russian Prime Minister Dmitry Medvedev also mocked Trump for signing the law, saying it scuttled any chances of improving relations between the two nations.
The White House, specifically Sean Spicer, coordinated with Fox News on publishing an article pushing a fake conspiracy theory about murdered Democratic National Committee staffer Seth Rich, according to a lawsuit filed Tuesday.
The story surrounding Donald Trump Jr.'s meeting with Russians during the election continues to change. The Washington Post reported Monday that President Trump personally dictated the misleading statement on the meeting. This is after Trump's aides and lawyers said he didn't have anything to do with it.
President Trump removed Anthony Scaramucci from his job Monday, just 10 days after he started as White House communications director, after Scaramucci last week gave an expletive-laced tirade against other top White House aides.
The move came hours after retired Gen. John Kelly was sworn in as the president's new chief of staff. Ezra Cohen-Watnick was also ousted Wednesday from the National Security Council.
Here's what you need to know about Kelly.
In other staffing news, the Senate confirmed Trump's pick to replace James Comey as the new FBI director, Christopher Wray.
Trump set to take first vacation since becoming president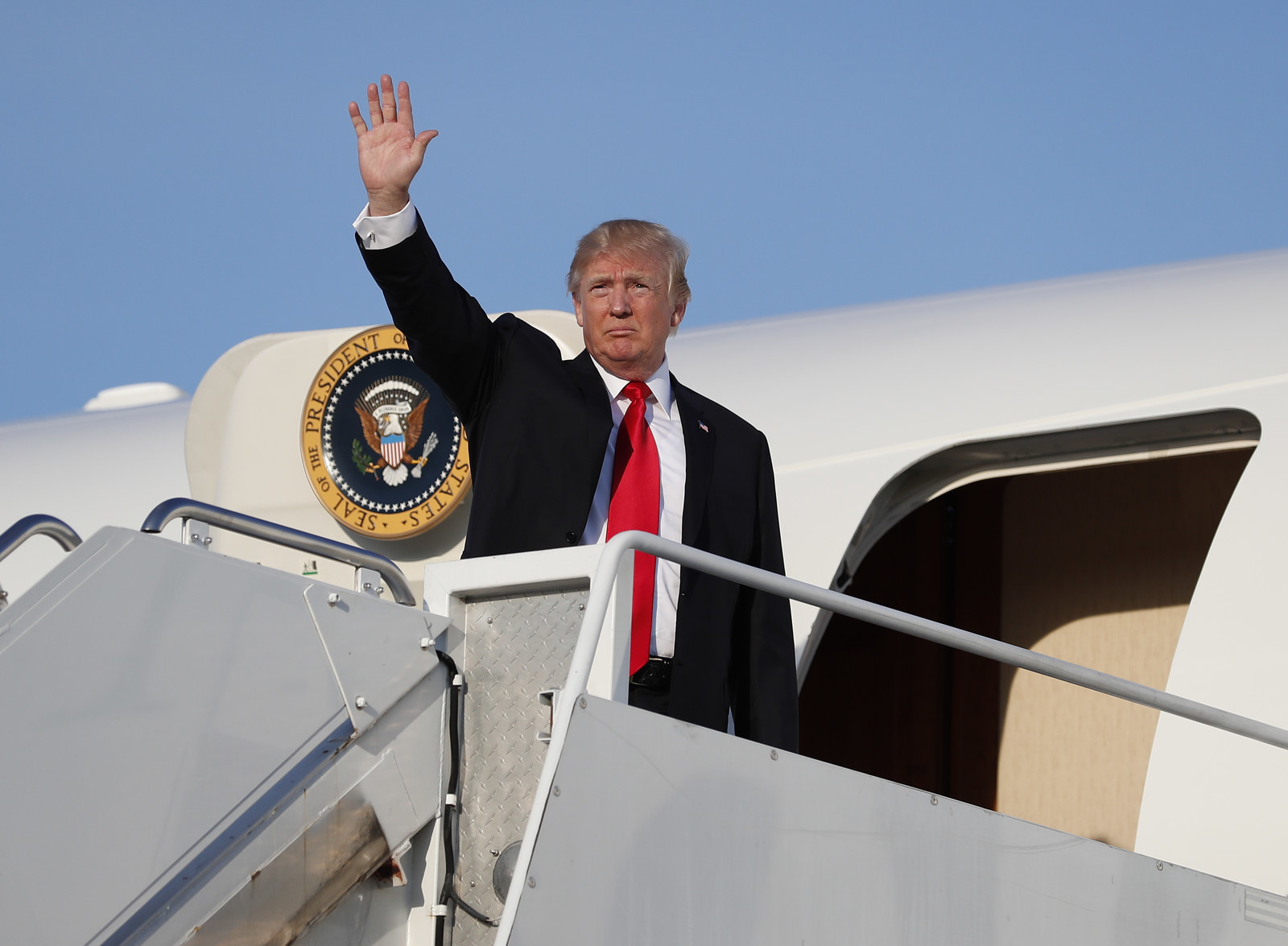 Trump, who once wrote that he didn't see the point in vacations, is set to take his first vacation since inauguration, the Associated Press reported.
The president on Friday is set to leave DC for a 17-day holiday to his private golf club in New Jersey.
The White House, however, has not confirmed Trump's vacation plans.
When asked about his vacation plans, given his warnings to Congress not to take off in August, White House press secretary Sarah H. Sanders said Tuesday, "We'll continue to keep you guys updated on his August schedule as those details are finalized."
As the AP noted, all White House occupants will be forced to clear out by Friday, for the 27-year-old heating and cooling system to be replaced.
As of Sunday, Trump has spent 58 of his 195 days in office at his own properties, including 43 days at his various golf resorts, according to an NBC News tracker.
Trump, who slammed Obama for golfing during his presidency, golfs frequently at his various properties during his time away from the White House.
In his 2004 book Trump: Think Like a Billionaire, he wrote, "Don't take vacations. What's the point? If you're not enjoying your work, you're in the wrong job."
In his January interview with the Times of London, Trump also said he wouldn't be vacationing much during his presidency:
Who wants to leave the White House to go to some other place and be away on a vacation? The White House is very special, there's so much work to be done, I'm not gonna be leaving much — I mean a lot of work to be done — I'm gonna be in there working, doing what I'm supposed to be doing — but who wants to leave the White House?
Trump blames Congress, not Russia's election meddling, for America's "very dangerous relationship" with Russia
Trump on Thursday blamed Congress for worsening America's relationship with Russia, instead of faulting Russia for interfering in the 2016 US elections and for its aggression in Ukraine and Syria.
In a tweet, the president said the country's relationship with Russia was at "an all-time and very dangerous low."
"You can thank Congress, the same people that can't even give us HCare!" he said.
Trump was forced to sign a bill imposing sweeping sanctions against Russia after Congress passed the legislation and restricted his ability to veto it, thwarting his attempts to warm relations with Russia.
Trump has derided the bill, calling it "flawed" and "unconstitutional."
Sen. John McCain, who was one of the three Republican senators to kill his party's Obamacare repeal bill, responded to Trump's tweet saying, "Our relationship w/ Russia is at dangerous low. You can thank Putin for attacking our democracy, invading neighbors & threatening our allies."
—Tasneem Nashrulla
Scaramucci will reportedly speak directly to the American people on Friday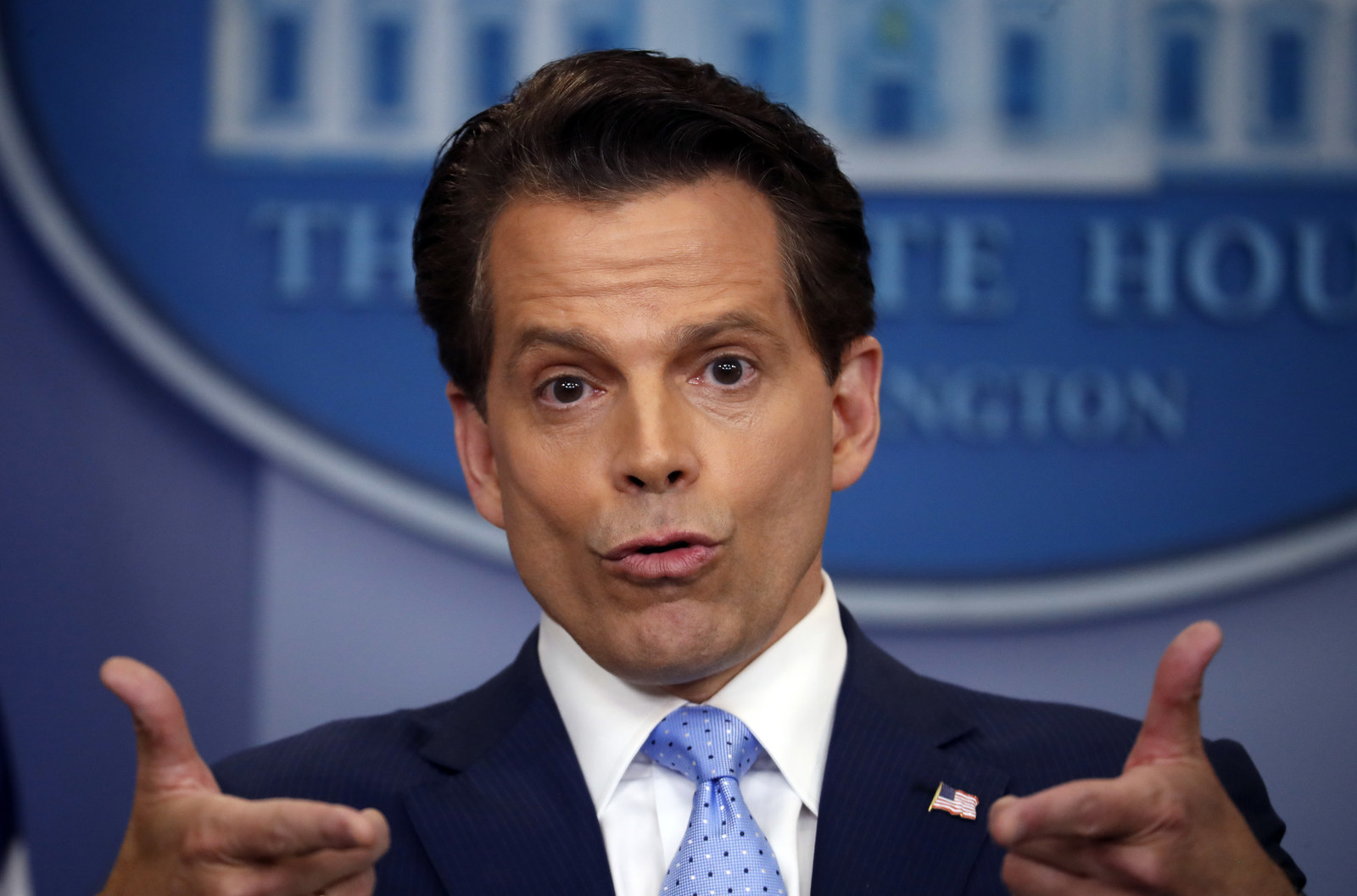 Ousted White House communications director Anthony Scaramucci has something to say to the American people and will do so in an online event on Friday, CNN reported.
Scaramucci, who only lasted 10 days in the Trump administration, is working with former Fox News co-president Bill Shine on the streamed event, CNN reported. Shine left Fox in May amid a ballooning sexual harassment scandal at the network.
The news comes after Scaramucci's memo outlining his White House communications planleaked earlier on Wednesday. In the memo, he outlined a number of plans, including bypassing traditional media to get Trump's messages across.
Scaramucci has so far not said much about his future plans, but told BuzzFeed News to stay tuned. 
—Claudia Koerner
Federal prosecutors reportedly subpoena Kushner family business over controversial investment visa program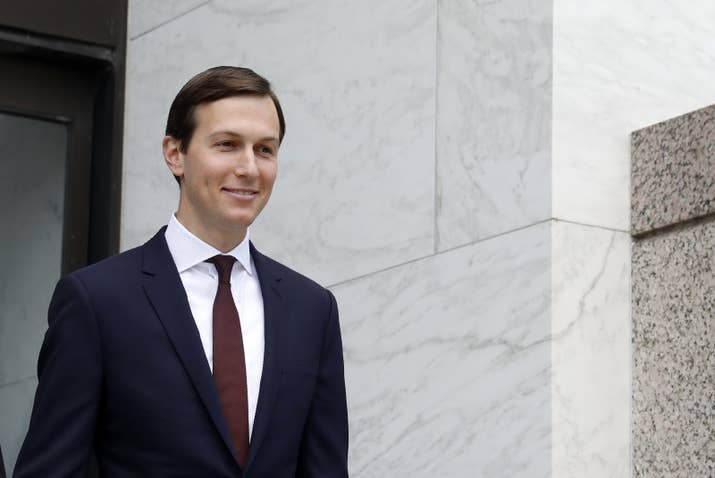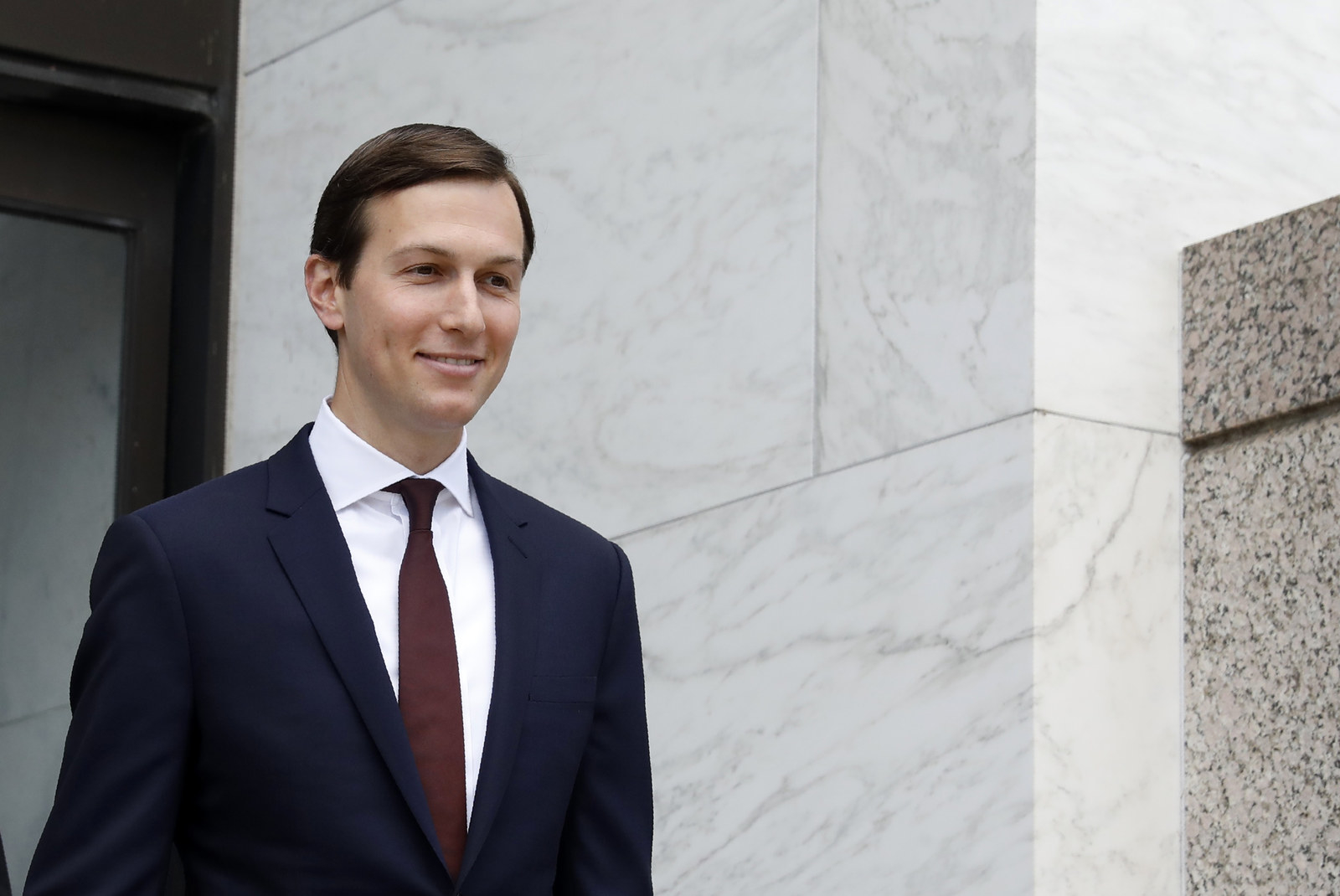 Federal prosecutors in New York have subpoenaed the property development company owned by the family of senior White House advisor Jared Kushner for records concerning its use of an investment-for-visa program, the Wall Street Journal reports.
According to the Journal, the subpoena was issued by the US attorney's office in Brooklyn, and related to at least one Kushner Cos. development in Jersey City, New Jersey, that is partly financed by the federal visa program known as EB-5.
The property, One Journal Square, is one of two Kushner-owned developments in Jersey City using money from the program, which fast-tracks green cards for foreigners who invest between $500,000 and $1 million in a project that creates US jobs.
It is not clear what federal prosecutors are investigating in relation to the Kushner Cos. developments. The US Attorney's Office in the Eastern District of New York did not immediately respond to a request for comment from BuzzFeed News.
The company's use of the investment visa financing came under scrutiny in May, after launching a Chinese marketing push that played up the firm's ties to President Donald Trump and his son-in-law Jared Kushner.
The incident prompted Senate Judiciary Chairman Chuck Grassley to request a federal probe of the companies involved in selling the Kusher project. And it renewed calls for reforming — or abolishing — the program, which critics say is susceptible to fraud.
White House fires its National Security Council senior intelligence director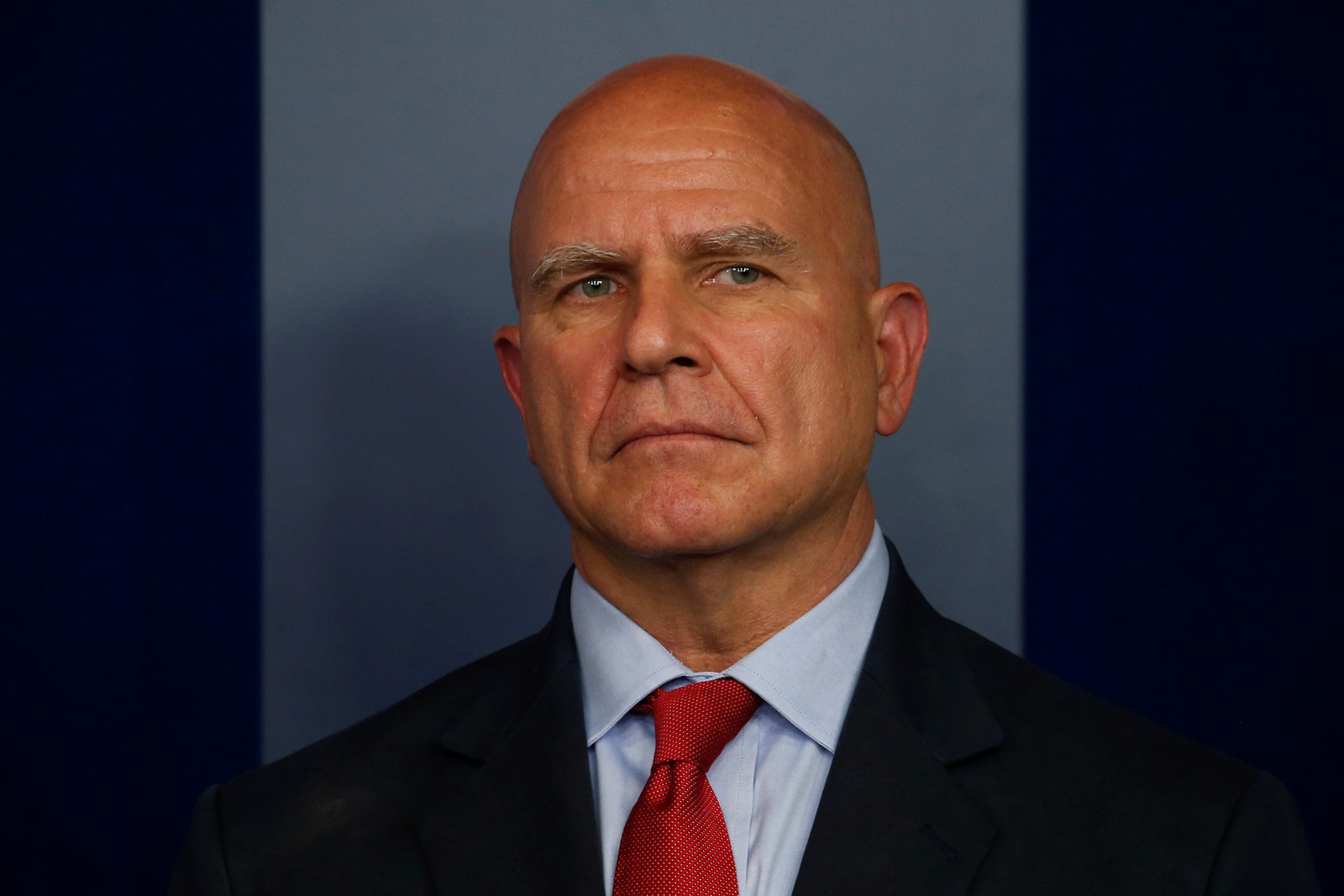 The White House fired its senior intelligence director for the National Security Council on Wednesday.
An administration official confirmed that Ezra Cohen-Watnick "left the National Security Council" at the request of NSC adviser Gen. H.R. McMaster
"General McMaster appreciates the good work accomplished in the NSC's Intelligence directorate under Ezra Cohen's leadership. He has determined that, at this time, a different set of experiences is best-suited to carrying that work forward," the official said in a statement. "General McMaster is confident that Ezra will make many further significant contributions to national security in another position in the administration."
Known as "the man McMaster couldn't fire," Ezra Cohen-Watnick was brought on by former NSC adviser Gen. Michael Flynn, who resigned in February.
McMaster had reportedly tried to fire Cohen-Watnick a few months ago, but was overruled by several of the president's top allies, including Steve Bannon and son-in-law Jared Kushner, according to the Conservative Review, which first broke the story.
McMaster replaced Fox News commentator K.T. McFarland as his deputy in May and fired Trump's Middle East adviser, Derek Harvey, last month.
Harvey and Cohen-Watnick are both prominent Iran hawks and vocal critics of the nuclear deal forged by the Obama administration and other world powers in 2015.
The Trump administration is currently considering whether to rip up the agreement, a move opposed by the key European allies and the international community. The State Department, led by Rex Tillerson, has urged the White House against withdrawing from the agreement, but President Donald Trump has repeatedly voiced his frustration with the status quo.
In March, Cohen-Watnick also reportedly gave House Intelligence Committee Chairman Devin Nunes classified information showing that Trump and a few of his transition team members were caught up in US surveillance of foreign nationals.
Here is Anthony Scaramucci's "Communications Plan" from before he was fired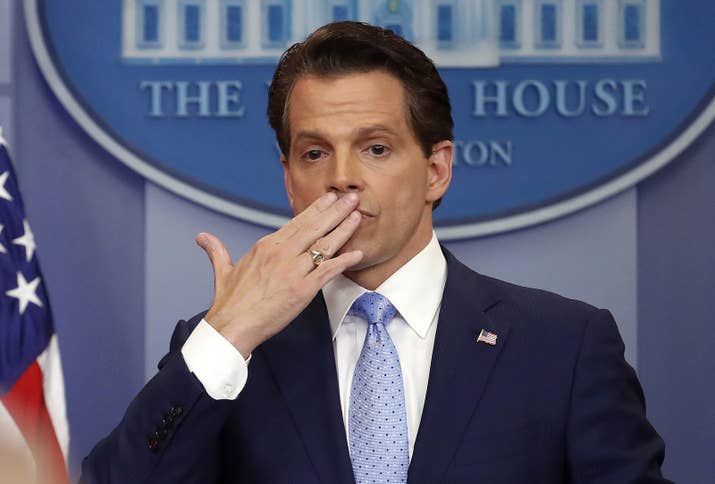 Recently ousted White House Communications director Anthony Scaramucci had big plans for the job, according to a draft of a memo he planned to send to White House staff.
The memo, dated June 30th and titled "Communications Plan," appears to be a detailed outline for White House staff with five ranked "priorities," labeled thusly: "Improve the Culture," "Comms is a Customer Service Operation—POTUS is the Number One Customer," "Make the News—We Go First," "Fill the Content Void," and "Jobs, Jobs, Jobs."
Scaramucci confirmed the authenticity of the document in a text to BuzzFeed News, saying "it's my memo."
Under each list of priorities, Scaramucci outlined — with plenty of bullet points — how he planned to re-boot a beleaguered press office and "foster better working relationships" with the "MSM."
Russian PM: "Trump administration has shown its total weakness" by signing sanctions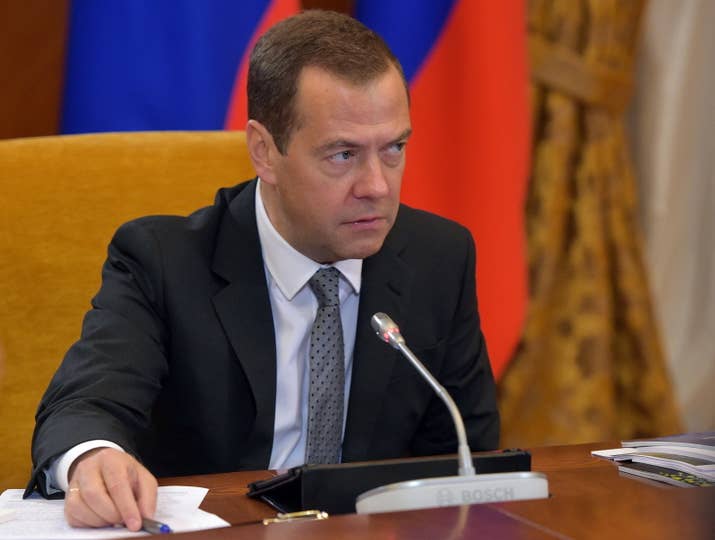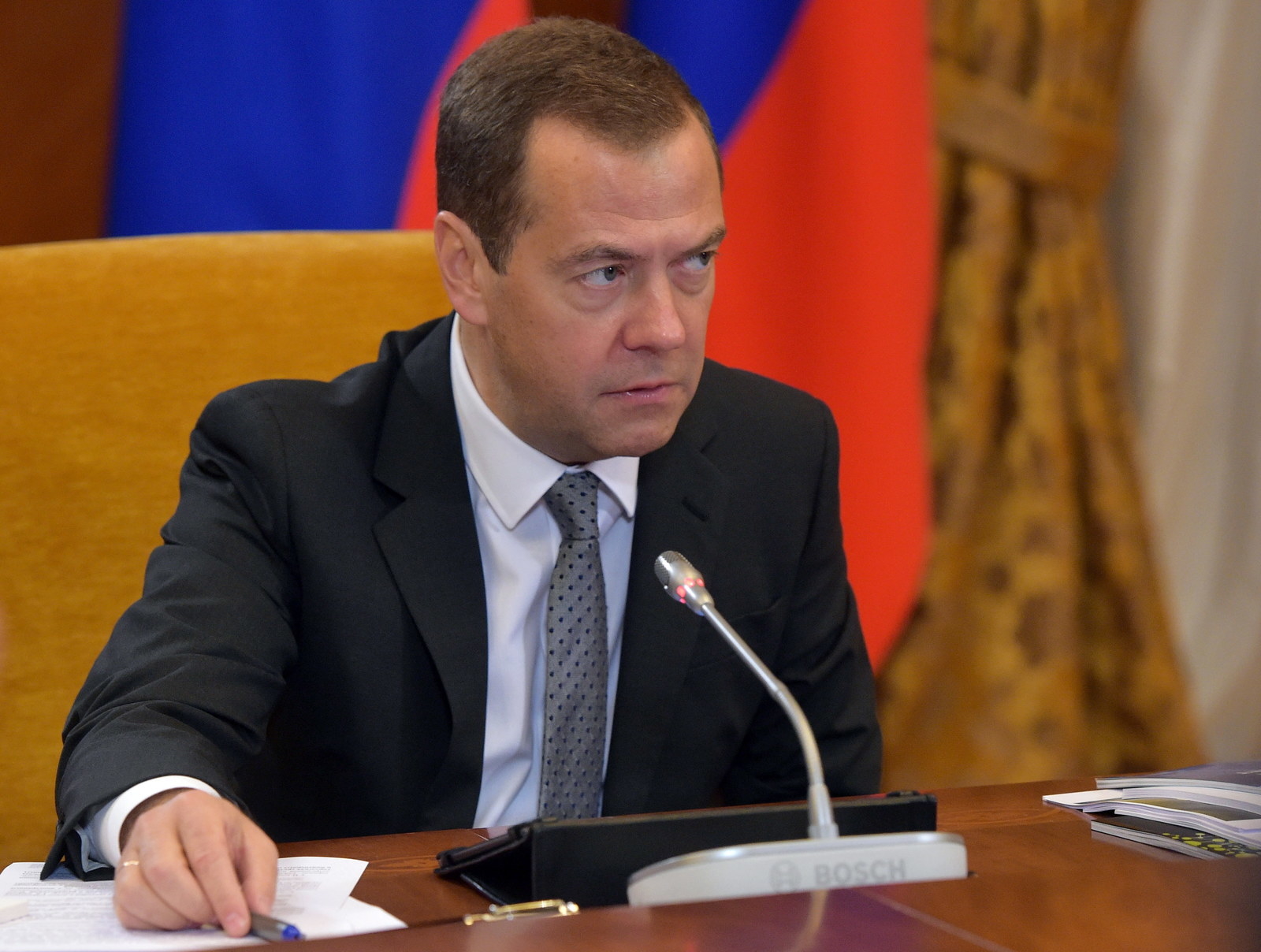 Russian Prime Minister Dmitry Medvedev on Wednesday mocked President Donald Trump as weak, saying that his signing of US sanctions on Moscow "ends hope for improving…relations" between the two countries.
Trump earlier on Wednesday signed into law a bill imposing sanctions on Iran, North Korea, and Russia. The president said he had deep misgivings and constitutional concerns about the law, which passed Congress with bipartisan support and a veto-proof majority, but chose to sign it "for the sake of national unity."
The Russian prime minister, who yields far less power compared to President Vladimir Putin, said Trump had been left humiliated by Congress, who he said had "outwitted" the US leader.
"The Trump administration has shown its total weakness by handing over executive power to Congress in the most humiliating way. This changes the power balance in US political circles," he wrote in a statement posted to Facebook.
Medvedev said Russia would "cope" despite the sanctions, but said they had scuttled any chance for improved relations between the two countries — something Trump has repeatedly said he desires.
Here's the full statement:
The US President's signing of the package of new sanctions against Russia will have a few consequences. First, it ends hopes for improving our relations with the new US administration. Second, it is a declaration of a full-fledged economic war on Russia. Third, the Trump administration has shown its total weakness by handing over executive power to Congress in the most humiliating way. This changes the power balance in US political circles.
What does it mean for them? The US establishment fully outwitted Trump; the President is not happy about the new sanctions, yet he could not but sign the bill. The issue of new sanctions came about, primarily, as another way to knock Trump down a peg. New steps are to come, and they will ultimately aim to remove him from power. A non-systemic player has to be removed. Meanwhile, the interests of the US business community are all but ignored, with politics chosen over a pragmatic approach. Anti-Russian hysteria has become a key part of both US foreign policy (which has occurred many times) and domestic policy (which is a novelty).
The sanctions regime has been codified and will remain in effect for decades unless a miracle happens. This legislation is going to be harsher than the Jackson-Vanik amendment as it is overarching and cannot be lifted by a special presidential order without Congress' approval. Thus, relations between Russia and the United States are going to be extremely tense regardless of Congress' makeup and regardless of who is president. Lengthy arguments in international bodies and courts are ahead, as well as rising international tensions and refusal to settle major international issues.
What does it mean for us? We will steadily continue our work on developing the economy and social sector, take efforts to substitute imports, and solve major national tasks, relying mostly on ourselves. We have learned to do so in the past few years, in conditions of almost closed financial markets as well as foreign investors' and creditors' fear of investing in Russia upon penalty of sanctions against third parties and countries. To some extent, this has even been to our advantage, although sanctions are meaningless overall. We will cope.
Separately, Russia's official Twitter account tweeted an odd video featuring the country's folk scene set to rock music that was apparently aimed at the United States.
"Whoever comes to us with #sanctions, from sanctions will perish. We dedicate this video to those who try to hurt us with new sanctions!" @Russia tweeted.
White House admits Trump's story about getting a phone call from Boy Scouts after speech didn't actually happen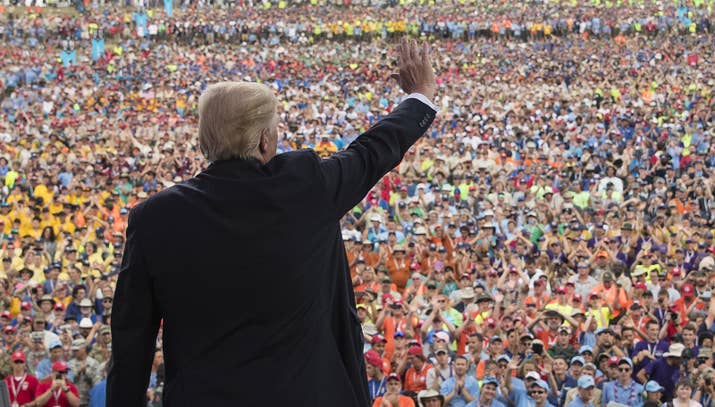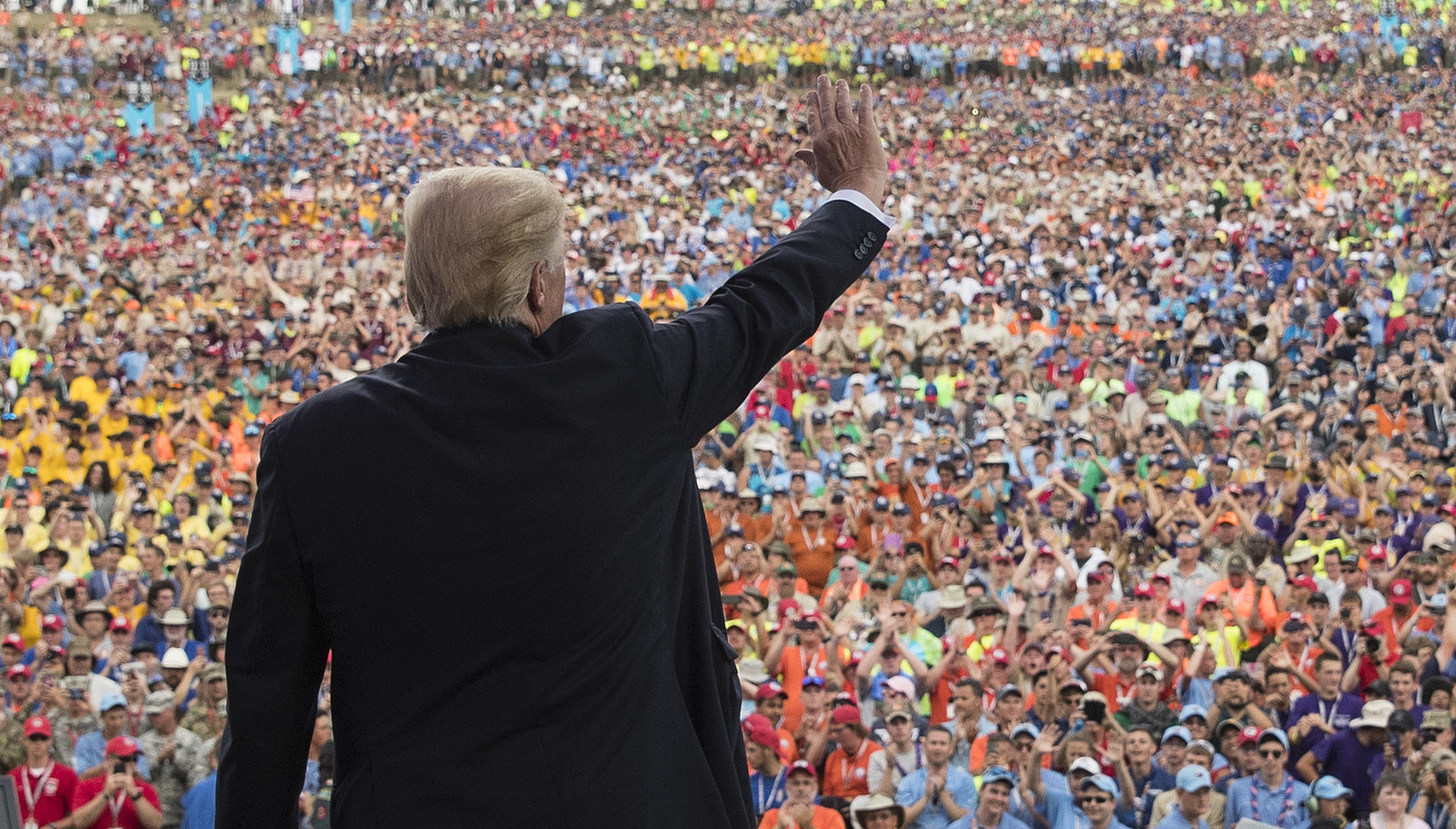 White House press secretary Sarah Huckabee Sanders on Wednesday said that despite what President Trump says, he did not actually get a phone call from the leader of the Boy Scouts complimenting his controversial speech at the annual jamboree.
In an interview with the Wall Street Journal last week — the transcript of which was released by Politico on Tuesday — Trump said that he received a call from the head of the Boy Scouts, and was told his speech to the organization and thousands of scouts was the "greatest."
However, an official with the Boy Scouts of America told BuzzFeed News on Tuesday that they were unaware of any such phone call to the president.
When asked about the discrepancy at a White House briefing on Wednesday, Sanders acknowledged there was no phone call, saying that the president instead was referring to an in-person conversation.
"In terms of the Boy Scouts, multiple members of the Boy Scout leadership, following his speech there that day, congratulated him, praised him, and offered quite… I'm looking for the word, quite powerful compliments following his speech."
Here's a top White House adviser and CNN's reporter arguing about immigration
video-cdn.buzzfeed.com
CNN reporter Jim Acosta and White House advisor Stephen Miller got into a heated back-and-forth about immigration during Wednesday's press briefing.
Citing the poem on the Statue of Liberty — "give me your tired, your poor, your huddled masses" — Acosta asked Miller if the bill Trump announced that would curtail legal immigration is "trying to change what it means to be an immigrant coming into this country."
Miller responded that the poem Acosta referred to was "added later," and from there, their exchange escalated, prompting Miller to accuse the reporter of "cosmopolitan bias" for asking if the bill's requirement for immigrants to speak English is designed to "engineer" policy that would only allow people from Great Britain and Australia to immigrate to the US.
"I am shocked at your statement that you think only people from Great Britain and Australia know how to speak English," Miller said. "Have you honestly never met an immigrant from another country who speaks English outside of Great Britain and Australia?"
Trump has signed the Russia sanctions bill
President Trump on Wednesday signed a bill imposing sanctions against Russia to punish the country for its election meddling. The "Countering America's Adversaries Through Sanctions Act" also imposes punishments on Iran and North Korea.
Congressional leaders passed the sweeping legislation in a veto-proof vote over the weekend, effectively forcing Trump — who is trying to court Moscow — to sign the sanctions.
The president maintained, however, that the law was "significantly flawed," contained "unconstitutional provisions," and impeded the ability of the executive branch to negotiate with foreign powers.
"Since this bill was first introduced, I have expressed my concerns to Congress about the many ways it improperly encroaches on Executive power, disadvantages American companies, and hurts the interests of our European allies," Trump said in a statement.
"Yet despite its problems, I am signing this bill for the sake of national unity," Trump said, without acknowledging the bill had passed congress with enough support to overturn any potential veto. "It represents the will of the American people to see Russia take steps to improve relations with the United States. We hope there will be cooperation between our two countries on major global issues so that these sanctions will no longer be necessary."
Even before Trump signed the bill, though, Russia retaliated to the sanctions by ordering the US to reduce its diplomatic staffing by 733 people.
Trump's statement also mocked Congress for failing to repeal and replace Obamacare and for their deal-making skills.
"I built a truly great company worth many billions of dollars. That is a big part of the reason I was elected. As President, I can make far better deals with foreign countries than Congress," he said.
Here are the 11 most WTF things Trump actually told the Wall Street Journal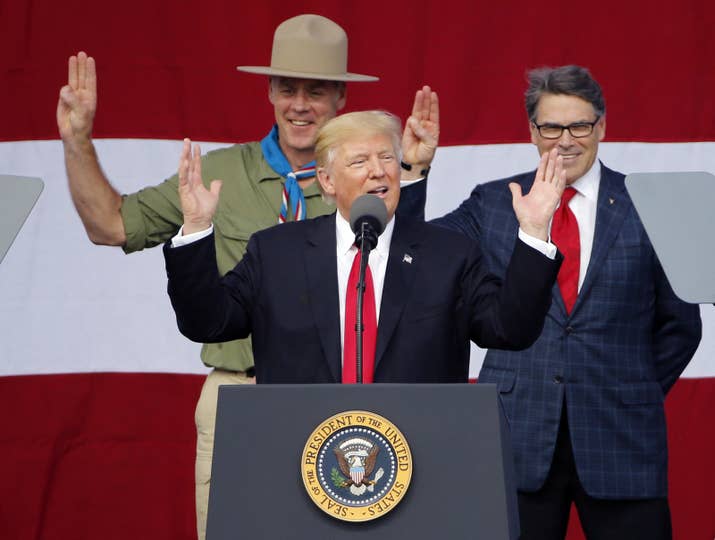 Last week, the Wall Street Journal interviewed President Donald Trump in the Oval Office for 45 minutes, but only published some excerpts from the conversation.
However, Politico got a hold of the transcript and on Tuesday published the entire 45-minute conversation, which was led primarily by the Journal's editor-in-chief, Gerard Baker.
When asked why the paper did not print the interview in full, a spokesperson told Politico that they "published the noteworthy excerpts from the interview. We saw no reason to publish the crosstalk that inevitably accompanies any conversation."
We combed through the transcript and have 11 of Trump's wildest comments .
President Trump reportedly called the White House "a real dump"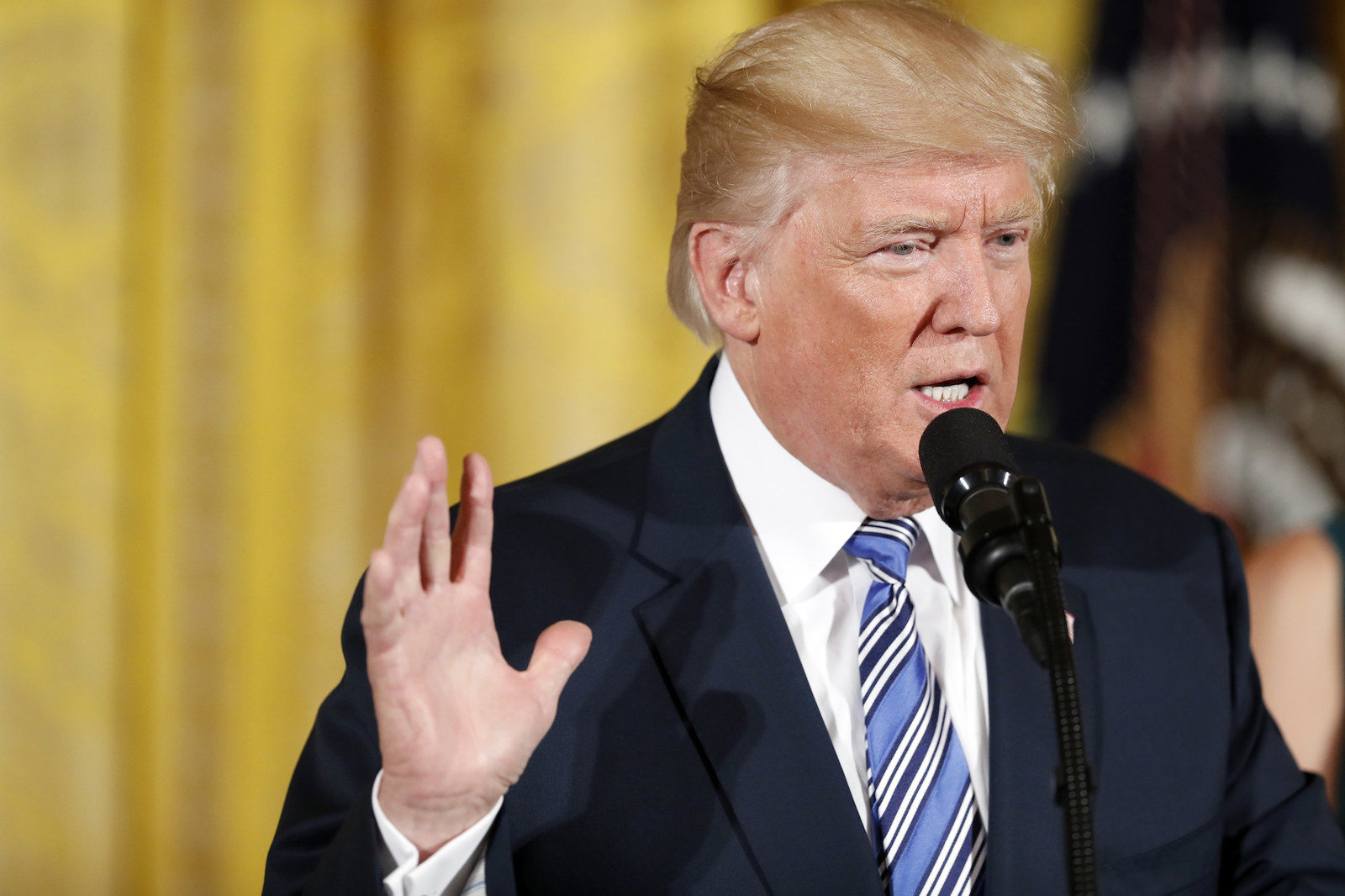 President Trump reportedly trash-talked the White House to members of his ritzy private golf club in New Jersey, calling the presidential mansion "a real dump."
The quote was included in a Sports Illustrated profile of the president and his deep connection to golf, from his putting style to his interaction with club members of his private clubs who pony-up around $250,000 in initiation fees.
"That White House is a real dump," he reportedly told members during a recent round of golf, explaining his frequent appearances.
The Center For American Progress is releasing a report claiming Trump-Russia collusion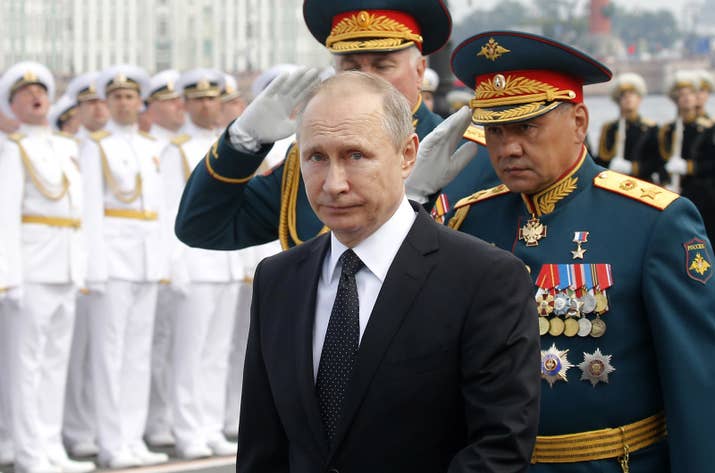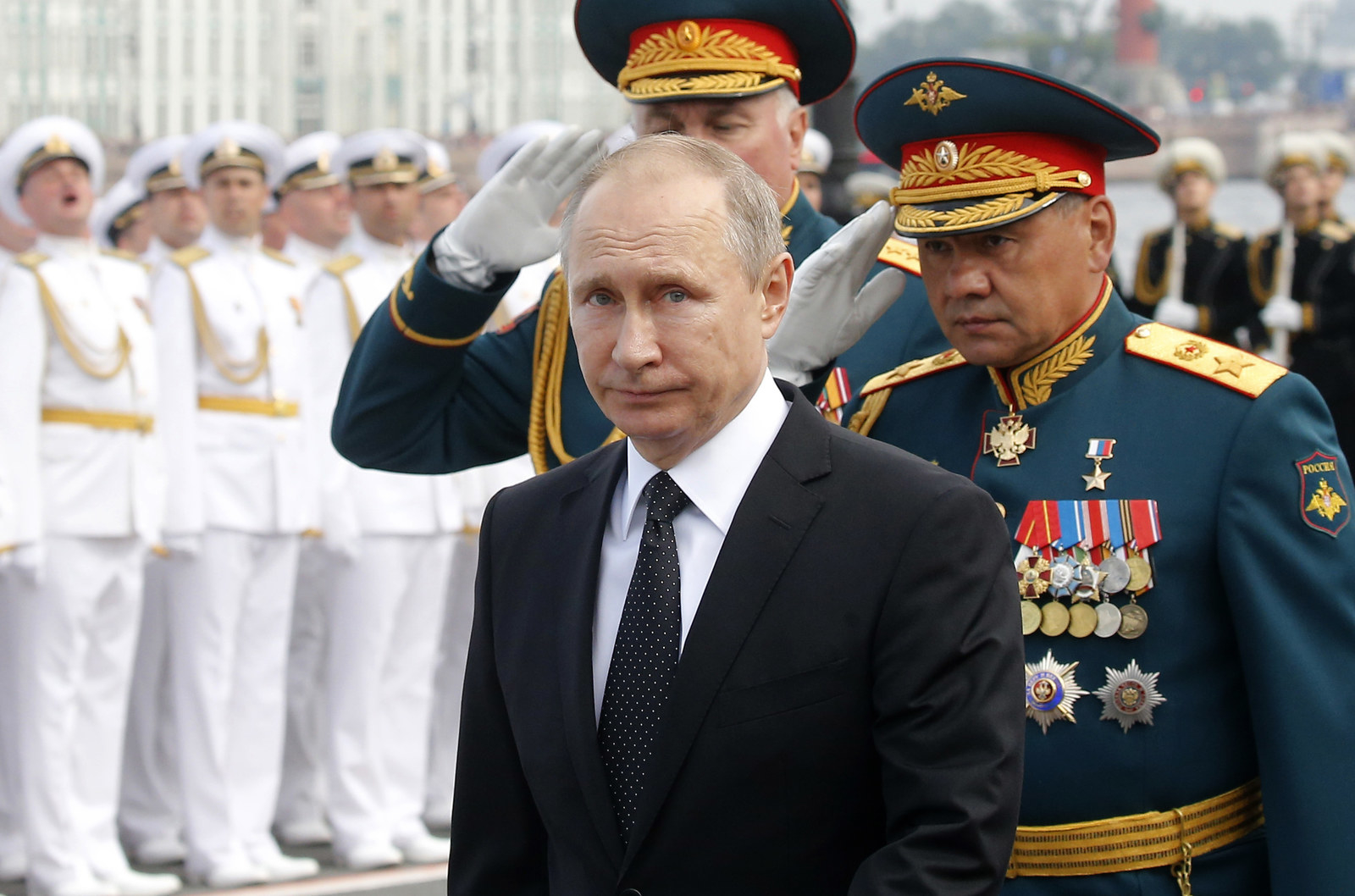 A major progressive think tank wants Democrats to stop being shy about accusing the Trump campaign of colluding with Russia.
The Center for American Progress has written a nearly 50-page report for Democrats in Congress, making the case for collusion between President Donald Trump's campaign and Russia. The report, a draft of which was reviewed by BuzzFeed News ahead of its release Wednesday, makes the bold claim "it is now clear there was collusion" and that "this is the biggest political scandal in American history."
CAP's report, which includes several appendices linking to news reports and quotes from the Trump administration, does not include any new information, but it does represent a push for a dramatic change of tone for Democrats in Congress.
"We're… trying to convey that it's time to stop beating around the bush on Trump's collusion with Russia. There is a mountain of evidence that Trump and his associates colluded with Russia and it's time to start saying so," Adam Jentleson, senior strategic adviser and the former deputy chief of staff for Senate Democratic Leader Harry Reid, told BuzzFeed News in an email.
Christopher Wray confirmed as new FBI director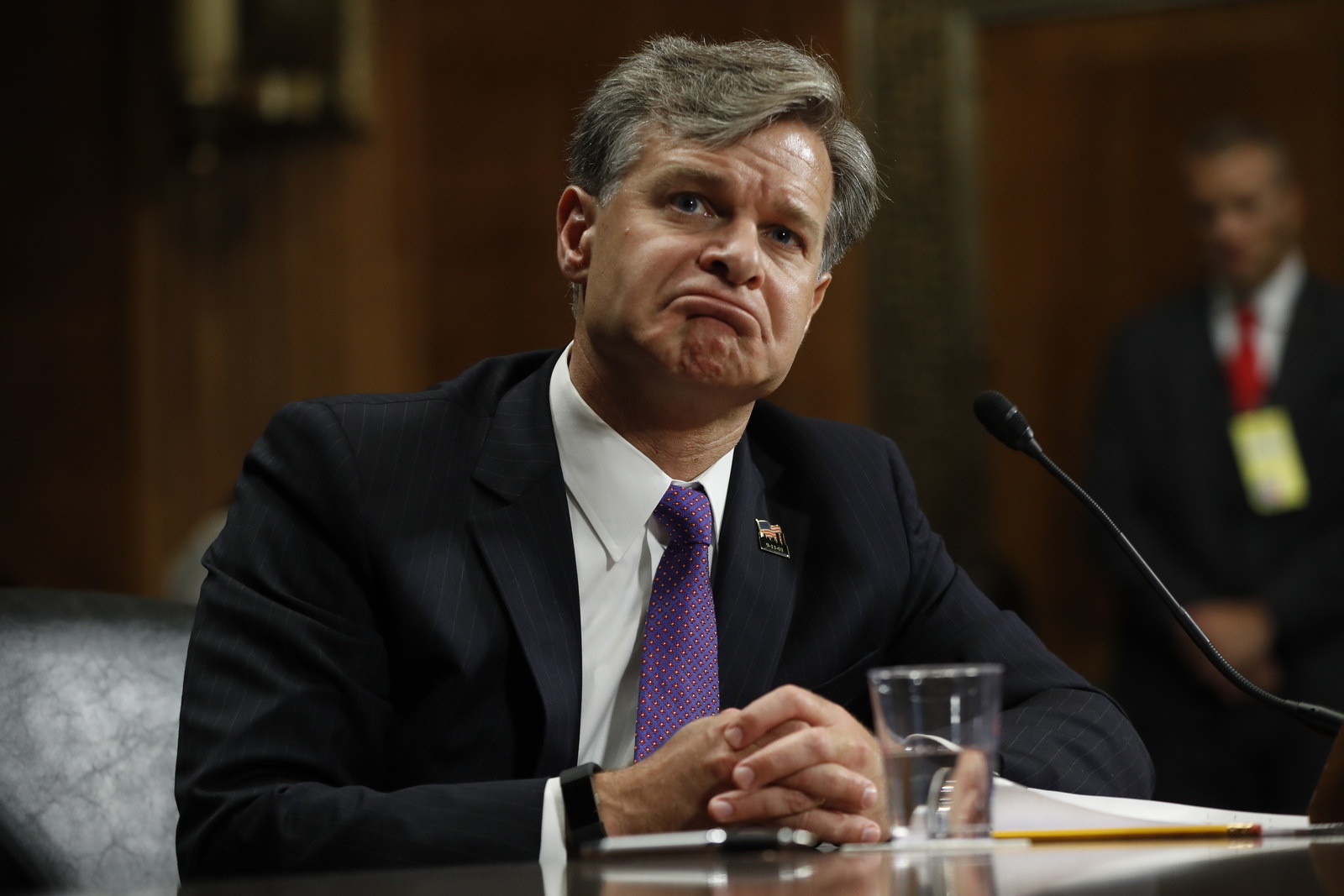 The Senate voted to confirm Christopher Wray to head the FBI for a 10-year term on Tuesday on a vote of 92-5.
Democratic senators Kirsten Gillibrand, Ed Markey, Jeff Merkley, Elizabeth Warren and Ron Wyden were the only senators to oppose Wray's nomination. All five Democrats have voted against the majority of Trump's nominees this year, with Gillibrand voting "nay" on all but two — the most of any senator.
President Donald Trump nominated Wray for the position in June, after abruptly firing former FBI Director James Comey the month before.
Wray is a former Assistant Attorney General, who served as the head of the Justice Department's Criminal Division during the Bush administration. He also served as New Jersey Gov. Chris Christie's personal attorney during the Bridgegate scandal.
Wray's nomination sailed through the Senate. He received unanimous support in the Judiciary Committee after a lengthy hearing centered largely on his ability to maintain the FBI's independence in the wake of Comey's firing, particularly in the ongoing Russia investigation. Comey previously told the Senate Intelligence Committee that he became uncomfortable with Trump, after the president told him he expected "loyalty" from the FBI director.
"If I am given the honor of leading this agency, I will never allow the
FBI's work to be driven by anything other than the facts, the law, and
the impartial pursuit of justice. Period," Wray told members of the Judiciary Committee in July. "My loyalty is to the Constitution and the rule of law."
Sarah Huckabee Sanders says President Trump "weighed in" on Don Jr.'s misleading statement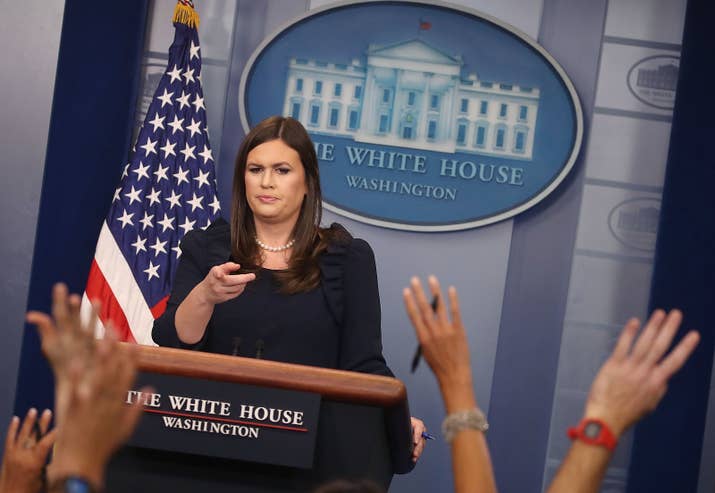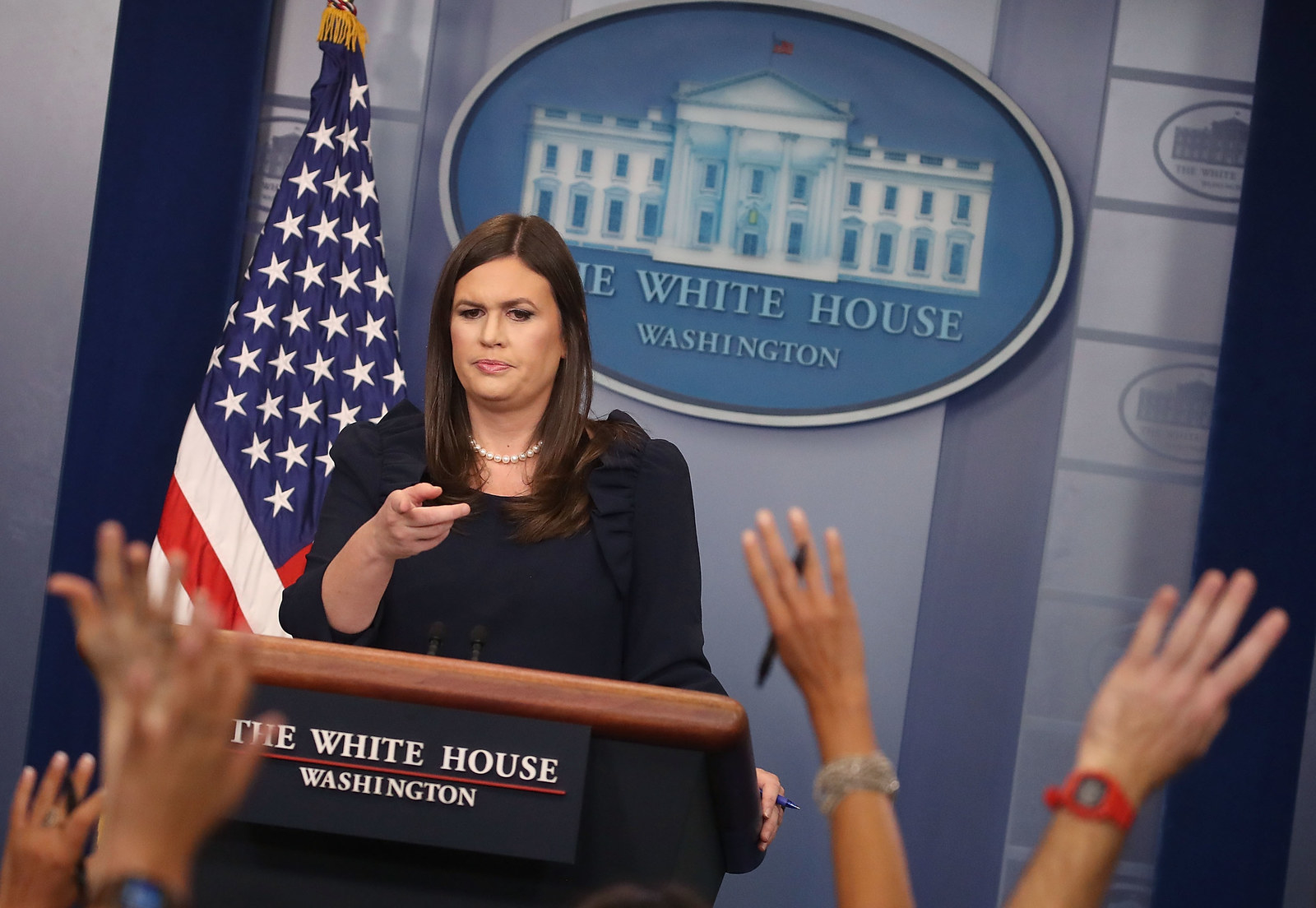 White House press secretary Sarah Huckabee Sanders told reporters Tuesday that the president did not dictate Donald Trump Jr.'s misleading statement about his meeting with a Kremlin-linked lawyer, saying instead that he merely "weighed in" on it.
"The statement that Don Jr. issued is true, there's no inaccuracy in the statement. The president weighed in, as any father would, based on the limited information that he had," Sanders said, adding that Democrats continued to use the issue "as a PR stunt."
However, when asked on July 12 during a press briefing if the president had been involved in writing Trump Jr.'s statement, Sanders said, "Not that I'm aware of, but I just don't know the answer to that."
Trump Jr. released his statement last month as the New York Times prepared to publish a story about the meeting he had with a Russian lawyer under the auspice of getting dirt on Hillary Clinton during the presidential campaign.
"We primarily discussed a program about the adoption of Russian children that was active and popular with American families years ago and was since ended by the Russian government, but it was not a campaign issue at that time and there was no follow up," he said in the statement.
But the following day, he released a new statement — and a few days later, a series of emailsleading up to the meeting — that showed he had agreed to the meeting because he thought he'd be getting damaging information about Clinton.
A reporter asked Sanders during Tuesday's briefing to what degree the president "weighed in" on Trump Jr.'s initial statement, which misrepresented his reasons for meeting with the lawyer.
"He certainly didn't dictate, but you know, he, like I said, he weighed in, offered suggestion, like any father would do," she said.
"Like I said, the statement that was issued was true and there were no inaccuracies in the statement," she added. "I think what the bigger question is, everybody wants to try to make this some story about misleading."
Lawsuit says Sean Spicer reviewed a Fox News report on a fake conspiracy theory before it was published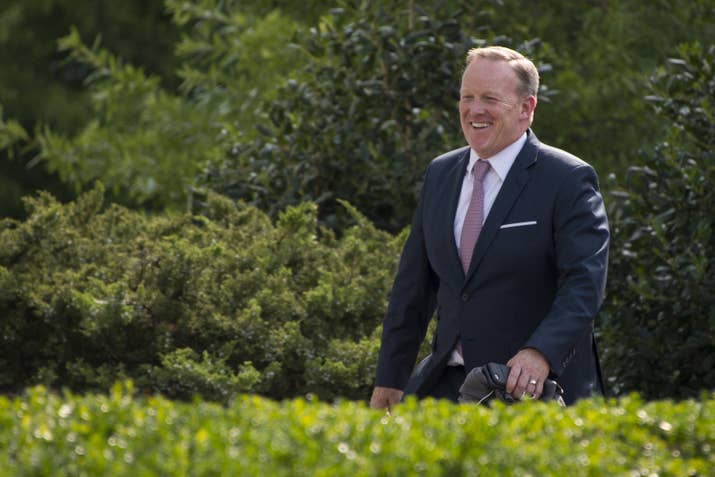 The private detective who ignited a false conspiracy theory about a murdered Democratic National Committee staffer sued Fox News and others on Tuesday, saying the network "created fake news to advance President Trump's agenda."
The suit, first reported by NPR, concerns a fake conspiracy theory around Seth Rich, which says Rich was in communication with Wikileaks and leaked the organization DNC emails during the 2016 presidential campaign — not Russia, as major US intelligence agencies concluded. The far-right and pro-Trump media, like Fox News, latched on to the false information as proof that President Trump's campaign didn't collude with Russia to tip the election in his favor.
Rod Wheeler, a former DC Metropolitan Police Department homicide detective and Fox News contributor, said that he met with then-Press Secretary Sean Spicer in his West Wing office to review a Fox News piece about the false conspiracy theory before it ran.
Accompanying Wheeler to the Spicer interview was Ed Butowsky — a Trump backer, Dallas investor and unpaid Fox contributor on financial matters. Butowsky had offered to pay Wheeler to investigate the death of Seth Rich, on behalf of his family.
Jared Kushner's off-the-record comments to interns are immediately leaked, and when asked about how his approach to Middle East peace might succeed, he says, "I don't know"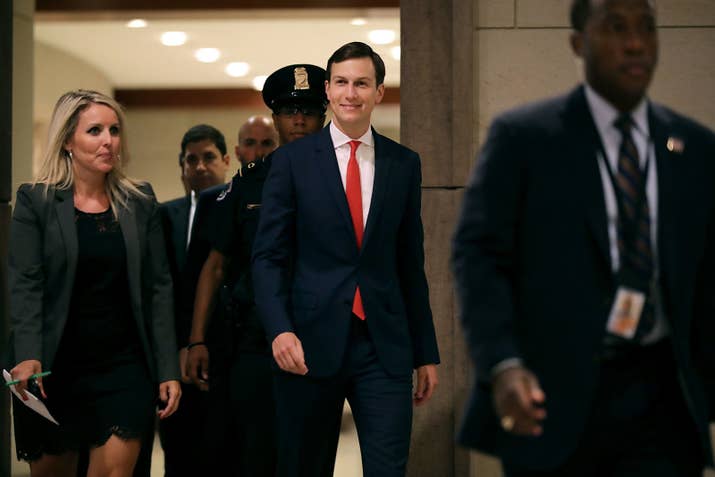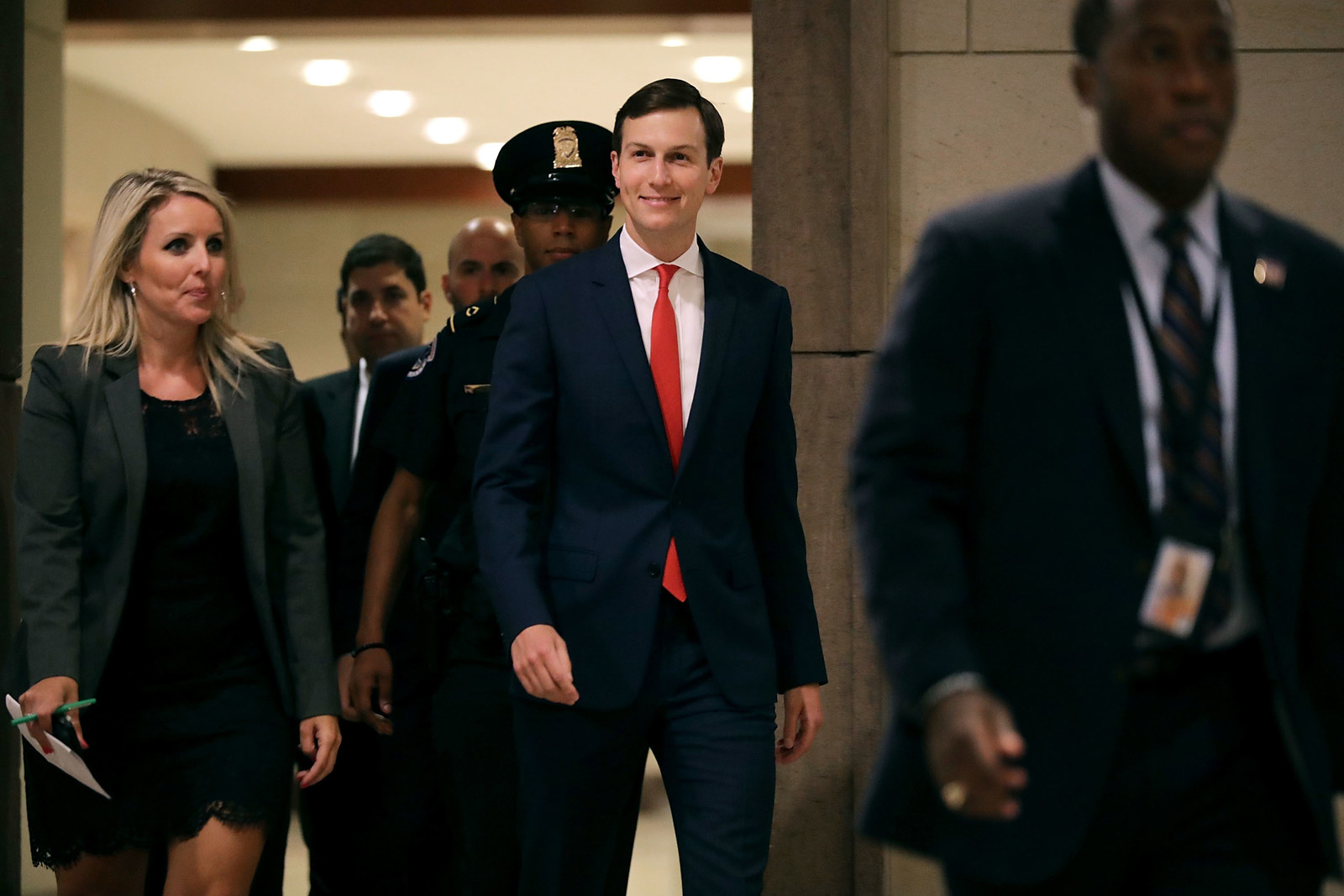 On Monday, presidential son-in-law and White House senior advisor Jared Kushner spoke to a group of congressional interns as part of Capitol Hill's summer intern lecture series. According to the House website, these talks with "prominent professionals and influencers" are off-the-record and only congressional interns are allowed to attend.
Although interns were warned before the talk began that leaking the lecture "would be a breach of trust," a recording of Kushner's hourlong talk and question-and-answer session was obtained by Wired magazine and posted Tuesday.
In one clip, Kushner was asked about President Trump tasking him with creating peace in the Middle East, and how he thought this administration would be the one to succeed in brokering an understanding between Israelis and Palestinians.
"Not a whole lot has been accomplished over the last 40 or 50 years," the senior advisor to the president said, adding that he has been doing a lot of research on the politically-charged situation. He expressed frustration with the focus on the past from both sides. "How does that help us get peace? Let's not focus on that. We don't want a history lesson. We've read enough books. Let's focus on how do you come up with a conclusion to the situation."
"So, what do we offer that's unique? I don't know," he said. "I'm sure everyone that's tried this has been unique in some ways, but again we're trying to follow very logically. We're thinking about what the right end state is. And we're trying to work with the parties very quietly to see if there's a solution. And there may be no solution, but it's one of the problem sets that the president asked us to focus on. So we're going to focus on it and try to come to the right conclusion in the near future."
Trump's new chief of staff and defense secretary once made sure that one of them remained in the country at all times to keep tabs on the White House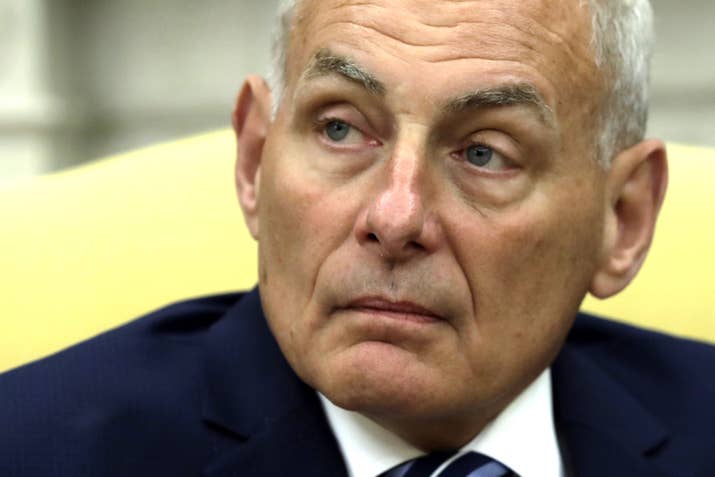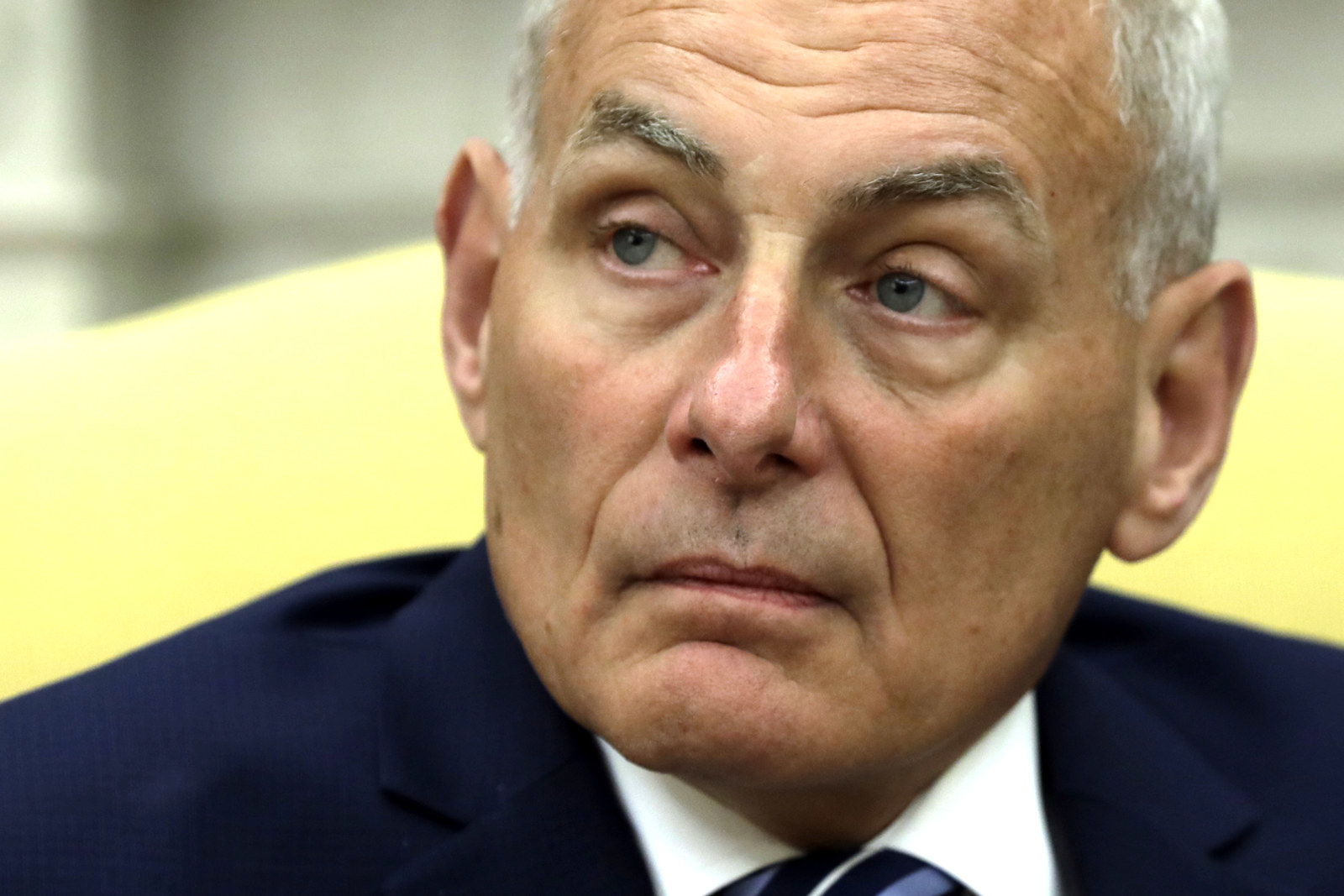 During the early weeks of Trump's presidency, Gen. John Kelly — then head of Homeland Security — and Defense Secretary Jim Mattis, agreed that one of them should remain in the US at all times to keep tabs on the flurry of orders from the White House, the Associated Press reported Tuesday.
Kelly's previous encounters with a president who is known to often dismiss his advisers' guidance shows that the general is likely to stand up to Trump and is set on restoring order and discipline in a chaotic White House.
Kelly once appeared to give the president a talking down to in the Oval Office and within earshot of other White House officials.
An administration official told the AP that Kelly had demanded to speak to the president alone in the Oval Office after Trump had loudly complained about the US admitting travelers from what he perceived were high-risk countries.
After Kelly insisted on other advisers leaving him and Trump alone in the Oval Office, "raised voices could be heard" through the door, according to AP's report of the encounter.
The president was reportedly responsible for that misleading statement about Trump Jr.'s meeting with a Russian lawyer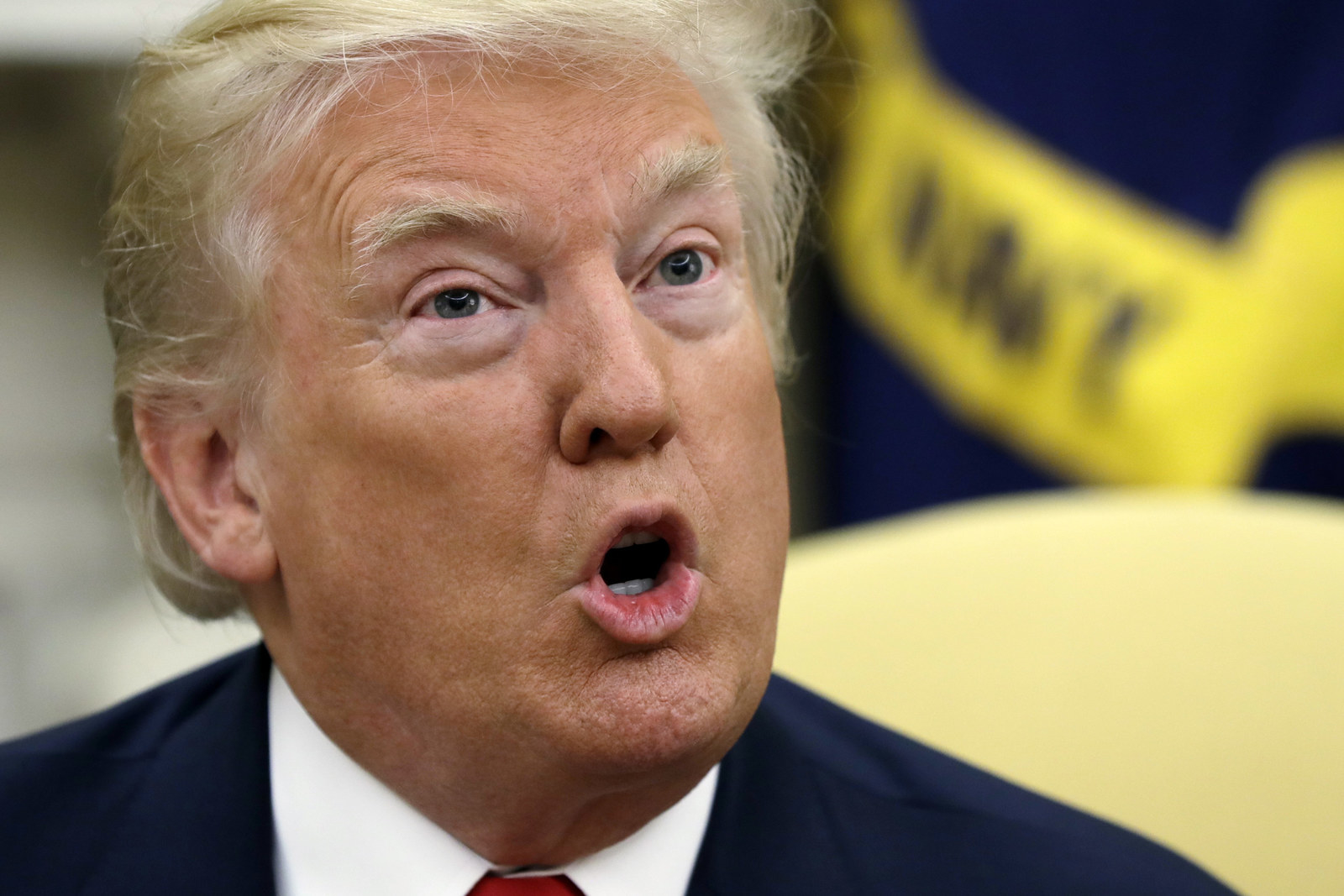 When it was first revealed earlier this month that Donald Trump Jr. met with a Kremlin-backed lawyer and others at Trump Tower during the 2016 campaign, the president's son claimed that they primarily discussed issues related to adoption.
Days later, Trump Jr. followed up his first statement by releasing emails that revealed a different story: The president's son had been promised opposition research by Russian lawyer Natalia Veselnitskaya on his father's Democratic opponent Hillary Clinton. His initial claim, then, that their meeting was not about a campaign issue appeared to be untrue.
That initial, misleading statement was the work of President Trump himself, the Washington Post reported on Monday. According to the Post, the president personally dictated the first statement while returning from the G20 summit in Germany aboard Air Force One.
People close to the president told the Post that they fear the president's involvement could create the appearance of a White House cover-up in the context of the ongoing investigation of whether his campaign colluded with Russia.
"Now someone can claim he's the one who attempted to mislead," one person told the Post. "Somebody can argue the president is saying he doesn't want you to say the whole truth."
The president's lead outside attorney on the Russia investigation, John Dowd, told BuzzFeed News in an email that the Washington Post story was "false and inaccurate."
Asked to elaborate, he declined.
—Claudia Koerner and Zoe Tillman
Trump's biggest online defenders are sad to see Scaramucci go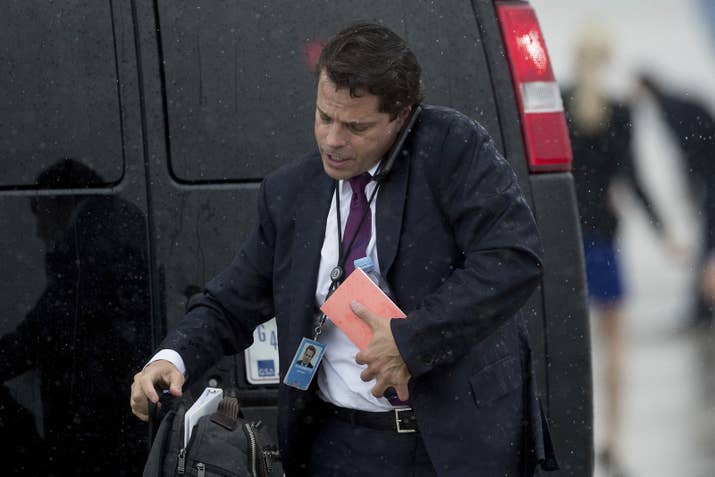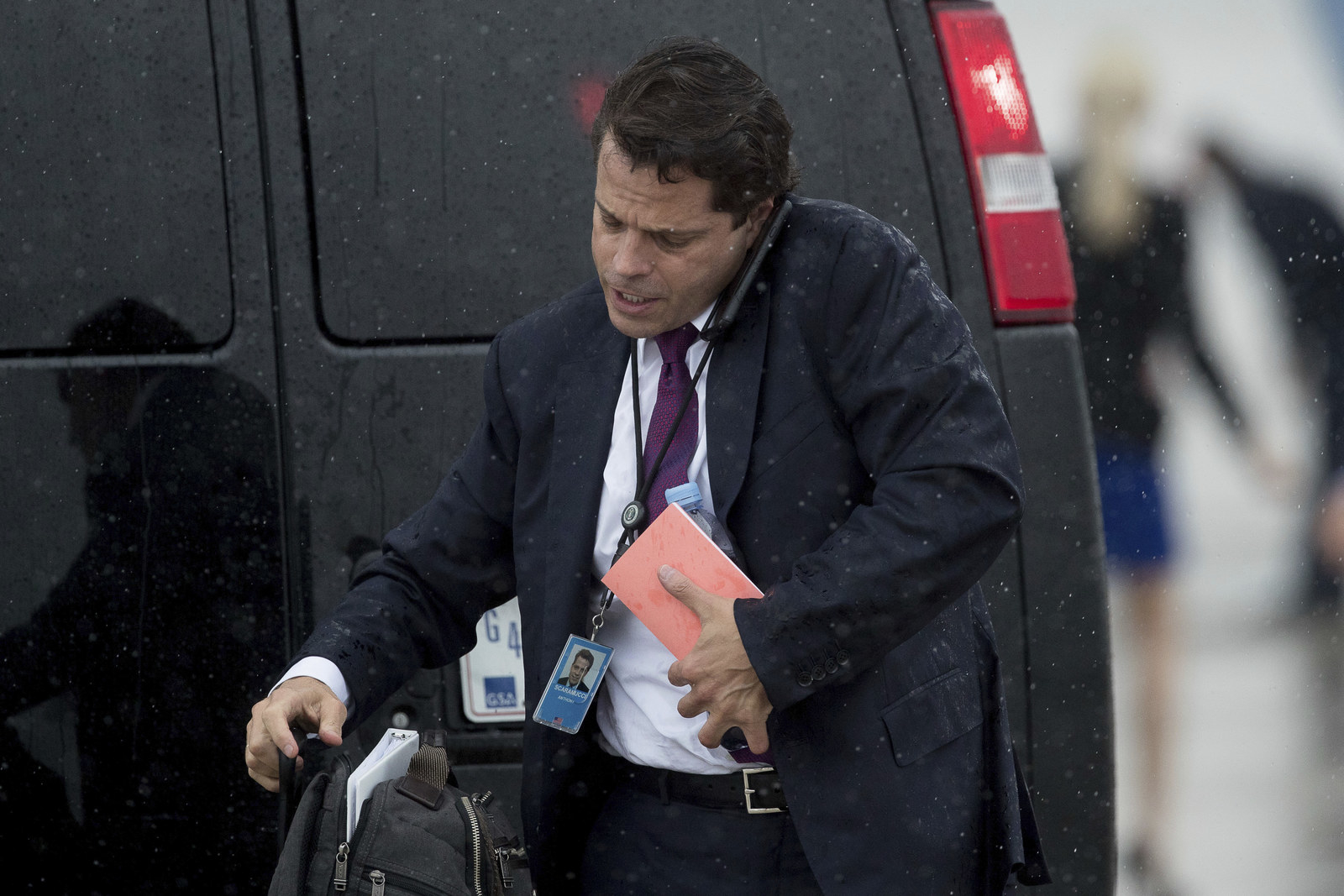 Anthony Scaramucci is anything but politically correct. And in the days since he announced himself as the incoming White House communications director, he found over-the-top ways to bash the press, White House staff who talked to the press, and the GOP establishment — the kind of high-energy assault President Trump's base craves.
The routine was too much, however, for Trump's newly installed chief of staff John Kelly, who on Monday dismissed Scaramucci just over a week after his new job was announced, even with the White House still recovering from Friday's departure of Kelly's predecessor, Reince Priebus. The rapid move has torn people in the president's far-right base who had embraced Scaramucci and cheered on Priebus' dismissal.
Those who saw Scaramucci, who is referred to by himself and others as "The Mooch," as the aide who had the president's back and wasn't afraid to speak his mind — even if it meant publicly ridiculing others to make his point — are upset that he wasn't given a real shot in the White House. Others understand why he had to go, but believe the White House could still use a straight-talking Trump "mini-me" as communications director.
"This is a sign Trump is going to return to a more conventional media strategy," Mike Cernovich, a pro-Trump media personality who has reported on the administration, told BuzzFeed News. "It's a bad sign. I won't even try to spin this news, losing Mooch is bad for the movement."
Read more here.
—Tarini Parti and Charlie Warzel
Trump was only joking about police roughing up suspects, White House says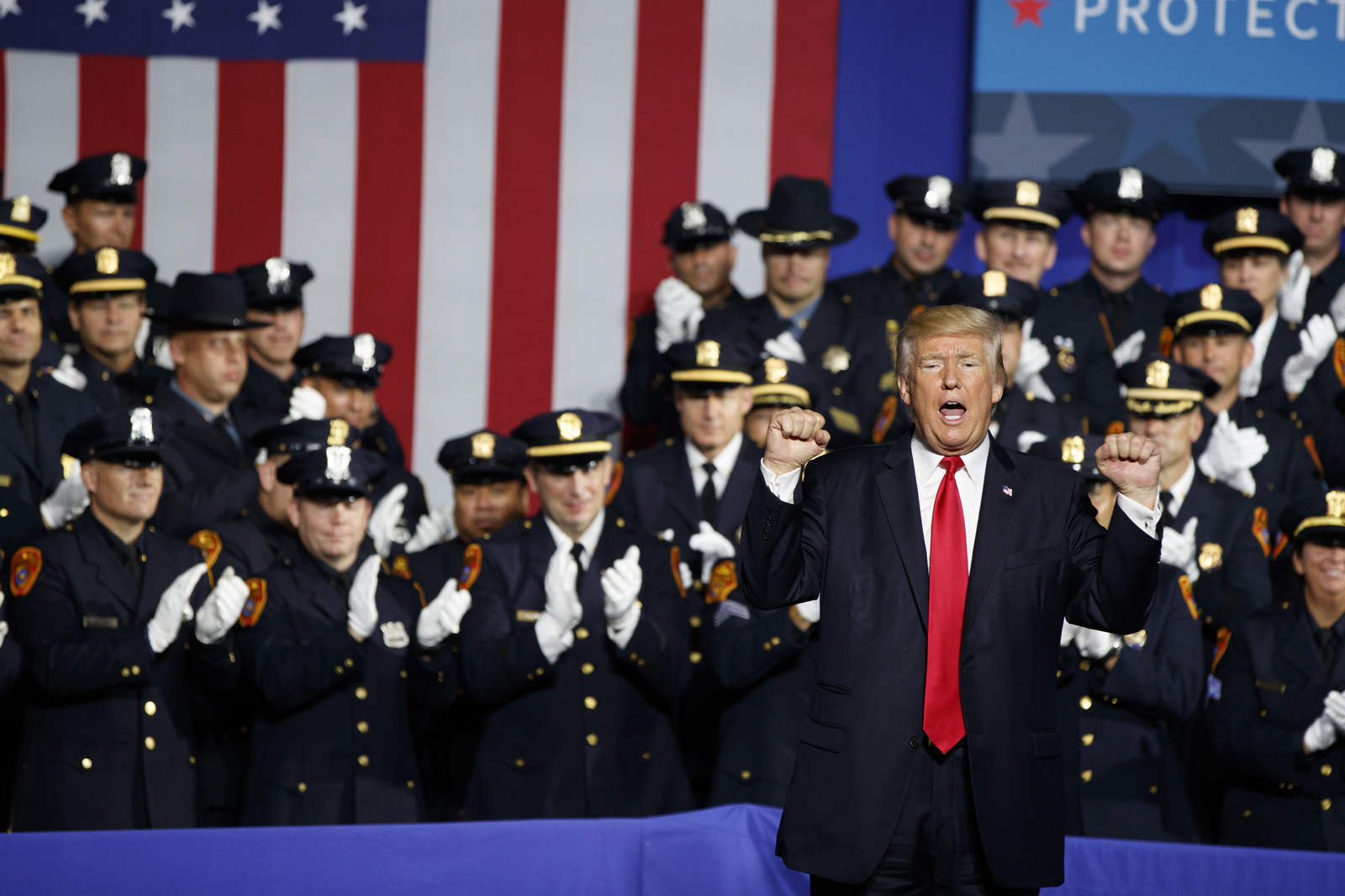 President Trump was only joking when he encouraged police officers to be rough with suspects last week, the White House said on Monday.
Trump made the comment on Friday during his speech before law enforcement officers in Long Island about illegal immigration and gangs.
"When you see these towns and when you see these thugs being thrown into the back of a paddy wagon, you just see them thrown in, rough, I said, 'Please don't be too nice,'" Trump said to cheers and applause. "Like when you guys put somebody in the car and you're protecting their head — you know, the way you put their hand over — like, 'Don't hit their head' and they've just killed somebody. 'Don't hit their head.' I said, 'You can take the hand away, OK?'"
The comments were rejected by law enforcement agencies across the country. Police chiefs from New York to California to Florida said excessive force by officers is not only illegal, but it hurts the relationship between them and the communities they serve.
But on Monday, White House press secretary Sarah Huckabee Sanders said Trump was only joking.
"I believe he was making a joke at that time," she told reporters.
White House says Trump found Scaramucci's comments "inappropriate"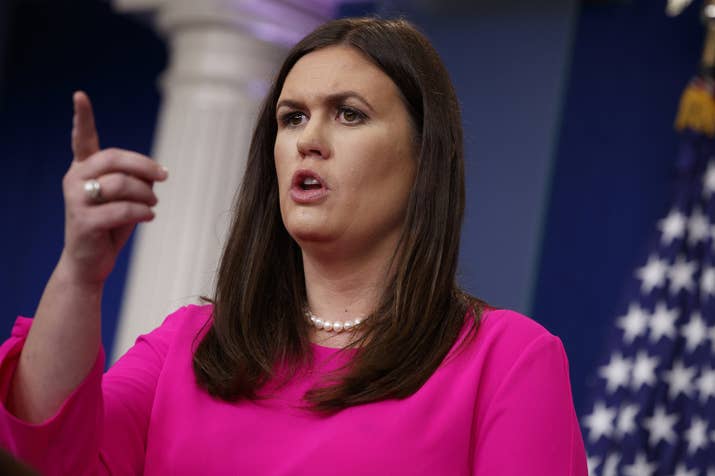 White House press secretary Sarah Huckabee Sanders on Monday would not say if Anthony Scaramucci was fired or if he resigned from his role as White House communications director.
Scaramucci's departure came after President Trump found his comments to the New Yorker, in which he railed about other members of the administration with vulgar language and said he wanted to kill leakers, "inappropriate," she added.
"The president felt it was inappropriate," Sanders said. "Both Anthony and [Chief of Staff] General Kelly also I think came to a mutual agreement, and we're moving forward to focus on the jobs outside this building, not within it."
Sanders did not answer a question about exactly which comments Trump found inappropriate. But, she said, he no longer has a role in the White House.
Kelly on Monday told Scaramucci he was being forced to resign just moments after being sworn in as chief of staff, the Wall Street Journal reported.
All White House staff — including top figures such as Trump's son-in-law Jared Kushner and chief strategist Steve Bannon — report to Kelly, Sanders said on Monday. Scaramucci previously bragged that he reported directly the president.
Scaramucci's departure from the communications director role gave Kelly a clean slate, a White House statement said.
Anthony Scaramucci ousted as White House communications director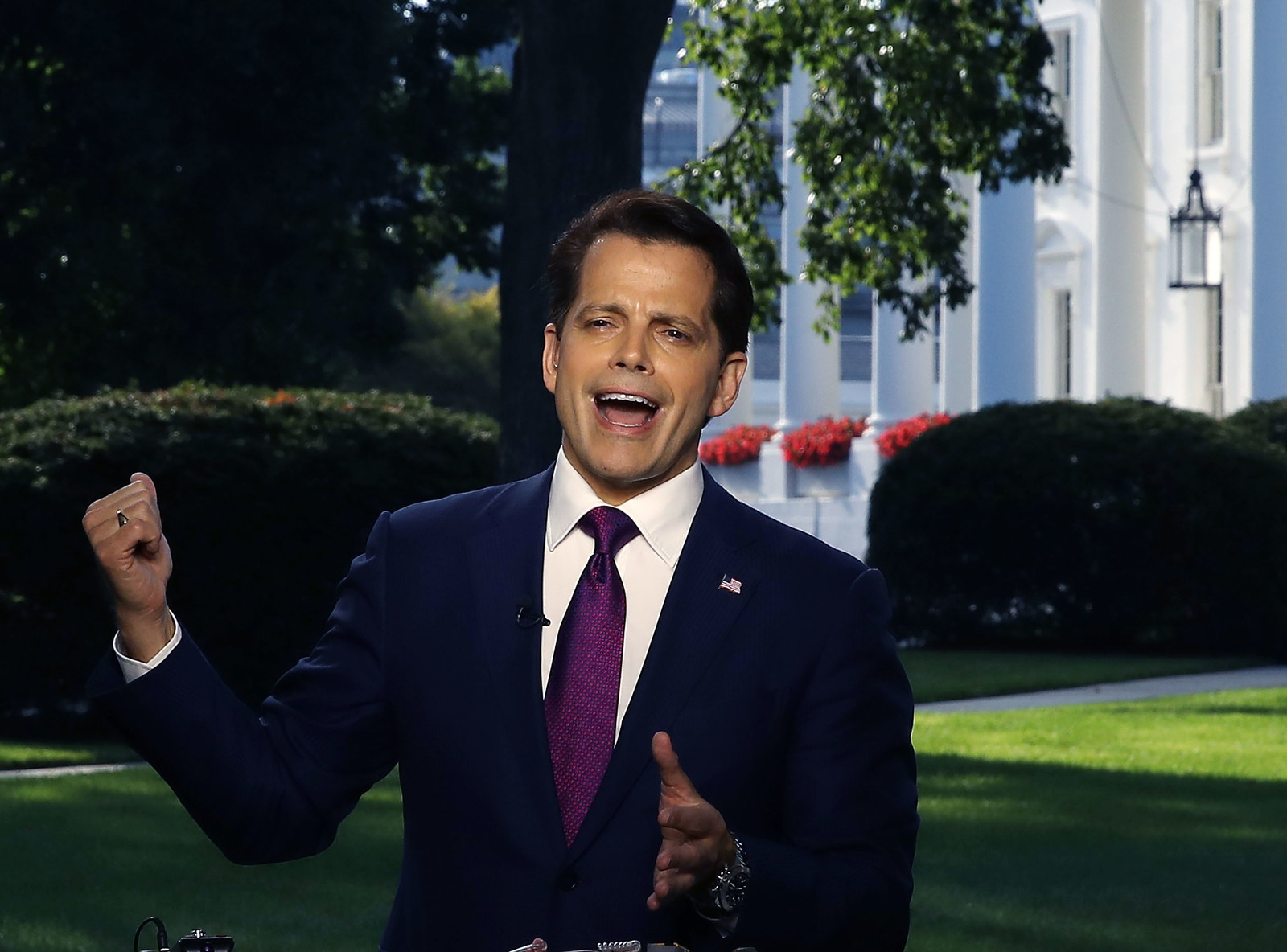 Just ten days after being appointed, White House communications director Anthony Scaramucci has resigned from his position, BuzzFeed News confirmed.
Scaramucci was appointed to the position just over one week ago. He told reporters he was willing to "fire everybody" on the White House communications team to stop leaks to reporters from the White House.
And last Wednesday, Scaramucci unleashed a tirade against then-Chief of Staff Reince Priebus others in a phone call New Yorker reporter Ryan Lizza. Priebus resigned and was replaced by retired general John Kelly on Friday.
The Republican National Committee told staff to preserve all documents related to the 2016 campaign
Republican National Committee employees have been asked to preserve all documents related to last year's presidential campaign — a step RNC lawyers describe as precautionary, but necessary, as investigations continue into Russia's meddling in the election.
"Given the important role that the RNC plays in national elections and the potentially expansive scope of the inquiries and investigations, it is possible that we will be contacted with requests for information," reads a July 28 memo to staff from the RNC counsel's office.
BuzzFeed News obtained a copy of the memo, which orders employees not to "delete, destroy, modify, or remove from your paper files, laptop computer, desktop computer, tablet, mobile device, e-mail, or any storage system or device, any documents, records, or other materials that relate to the 2016 presidential election or that may relate to any investigation concerning the election." An RNC source confirmed the memo's authenticity Monday morning.
According to the memo, the RNC "has not been contacted regarding any of the ongoing investigations, and there is no specific reason to believe we will be. Nonetheless, we have an obligation to keep potentially relevant documents. This is standard procedure for any organization that may be in a position to provide helpful or otherwise relevant information to litigants or investigators. Serious consequences will result for anyone who fails to comply with this obligation."
Here's Trump sitting across from Attorney General Jeff Sessions during the cabinet meeting — he never mentioned him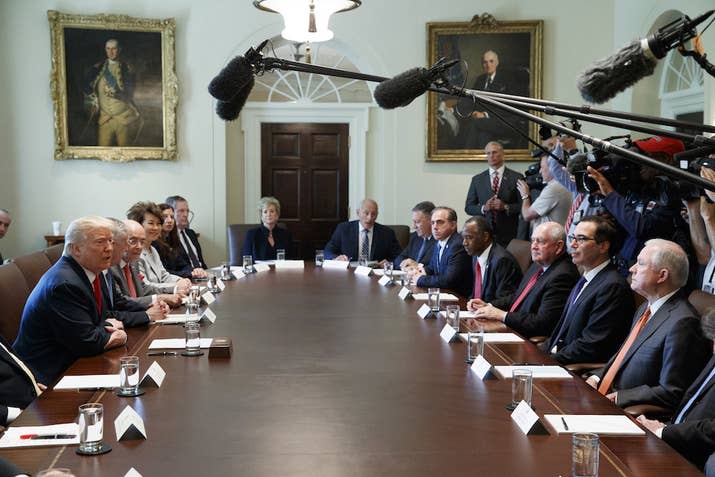 Trump has blasted Sessions recently for recusing himself from the Russia investigation — and Trump's press secretary, Sarah Sanders, won't say if Trump has confidence in his attorney general.
The two came face-to-face for the first time in a while on Monday.
It seemed….kinda awkward!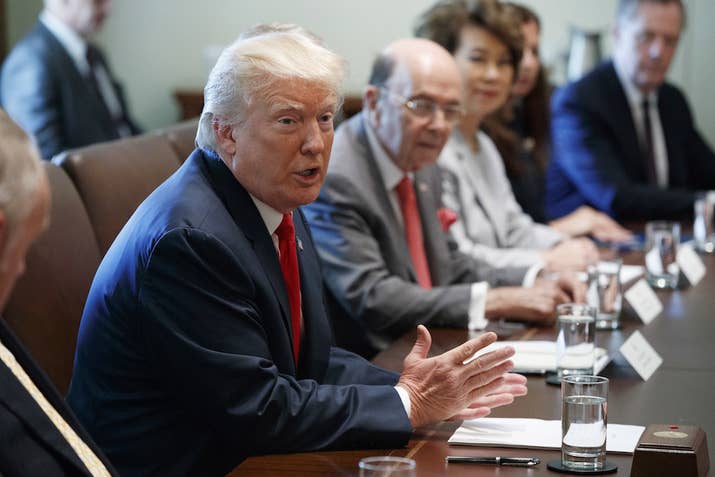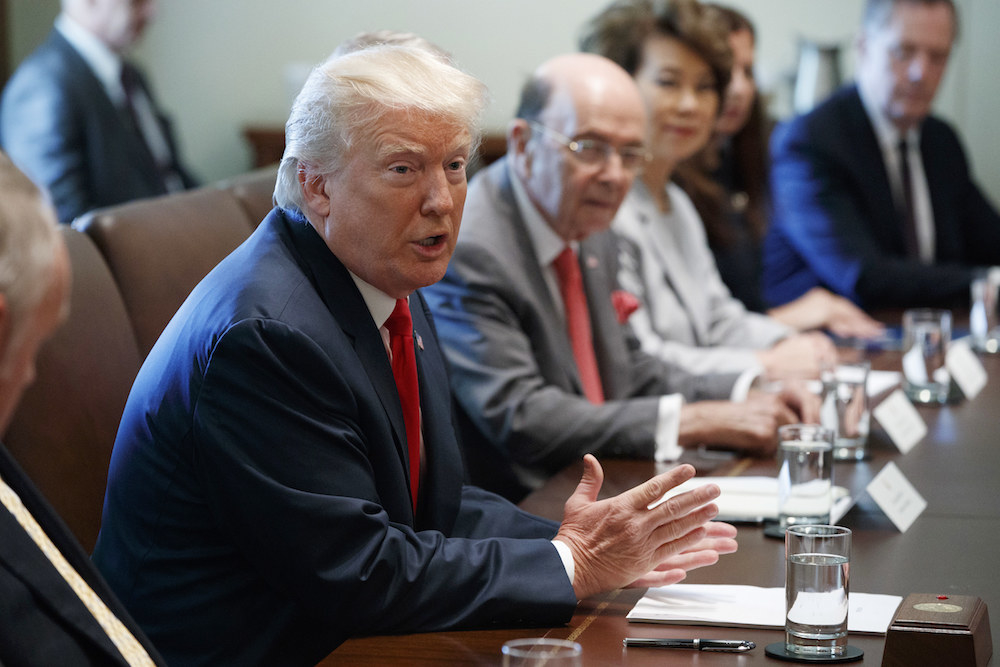 "We'll handle North Korea:" Trump responds to the country's latest missile test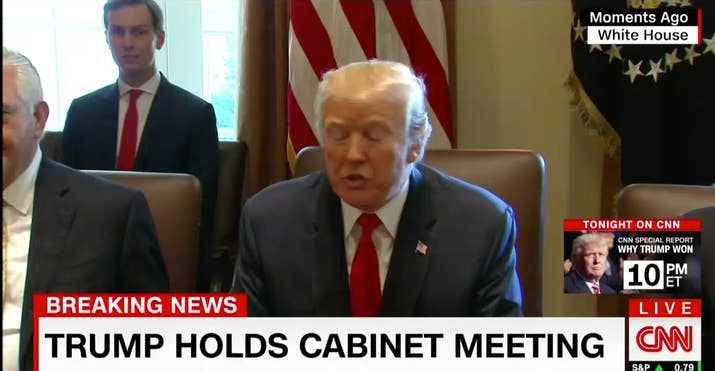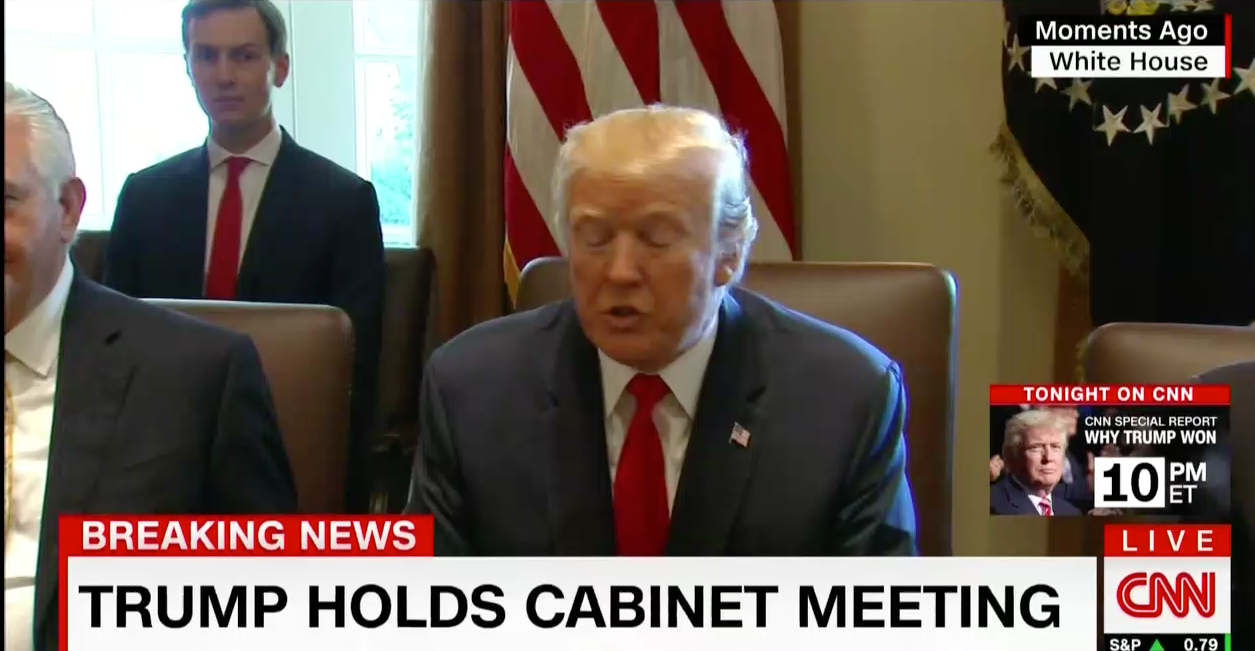 "We have some interesting situations that we'll handle…North Korea, Middle East, lots of problems we inherited from previous administrations, but we will take care of them, we'll take care of them very well," Trump said at his first cabinet meeting with his newly-sworn in chief of staff, Gen. John Kelly, on Monday.
"We'll handle North Korea…we're going to be able to handle them. It will be handled. We handle everything," Trump said in response to the country's test of a long-range missile Friday that could potentially strike US cities.
Trump also praised his new chief of staff, saying Kelly's stint as the head of Homeland Security was "nothing short of miraculous."
"I have no doubt that he will be a superb chief of staff," Trump said. "I predict that Gen. Kelly will go down in terms of the position of chief of staff, one of the great ever."
On Twitter this morning, Trump continued his weekend comments about health care and the economy
Here, Trump is continuing his threat to remove federal subsidies of insurance companies and of Congressional health care plans under Obamacare.
And here he's denying the White House is in chaos — but it is, and its impacting the agenda Trump wants to get done.
John Kelly's move to the White House could start a domino effect
The secretary of the Department of Homeland Security, retired General John Kelly, will be the new White House chief of staff starting Monday.
In the calmest of administrations at any time, this would raise questions about what such a decision would mean for the White House and DHS. But in an administration already rife with firings, departures, policy changes, and surprise announcements, Kelly's new move could end up producing wide-ranging effects from a series of simple decisions — like who will run DHS now.
About two hours after Trump sent his tweet announcing Kelly's move to the White House, DHS announced that Elaine Duke, the Senate-confirmed deputy secretary of DHS, will become acting secretary on Monday.
This follows the succession order in place at the department — which then-President Obama signed in December 2016.
Although Trump nominated Duke, there's no reason to believe that he ever believed that she would be — even temporarily — running the department. (See, for example, his attacks on Rod "Baltimore (but not actually)" Rosenstein, who he nominated to serve as No. 2 at the Justice Department without apparently knowing much about him.) Duke has worked in DHS under presidents of both parties, and appears to be generally respected by those who know her work.
Trump, though, could end up appointing someone besides Duke to run the department — including, yes, Attorney General Jeff Sessions.
McCain wasn't expected to kill Republicans' health care plan. Here's why he did.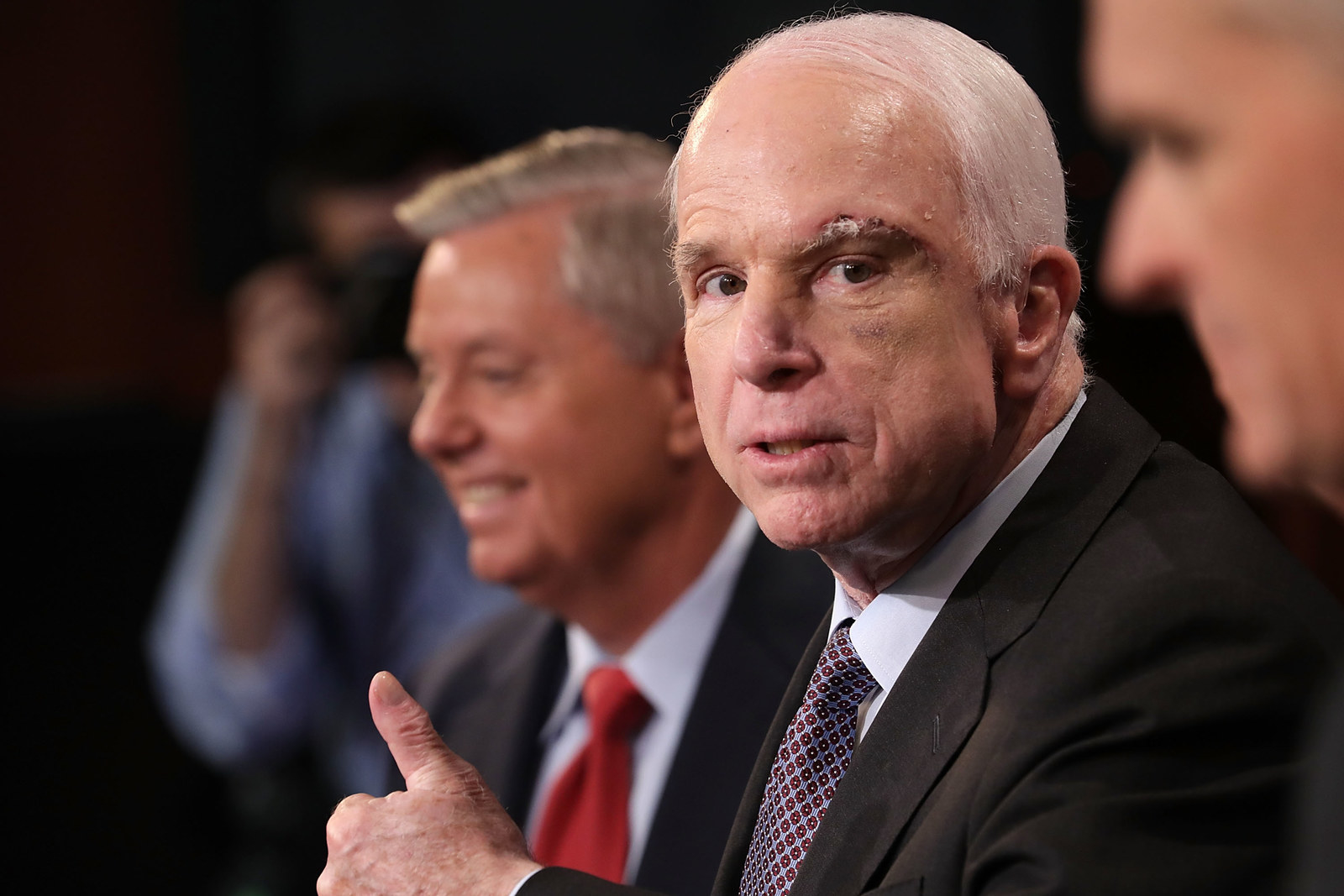 As John McCain walked into the Senate at midnight on Thursday, reporters asked him how he would vote on an imminent make-or-break vote on the Republican health plan. His response: "Watch the show."
And what a show it was. After an hour of desperate, last-minute lobbying by Republican leadership failed, McCain strutted to the center of the Senate floor, held his hand in the air to grab a clerk's attention, then swung his thumb downward in a no vote. With a literal flick of his wrist, McCain killed the Obamacare repeal plan his party had struggled for six months to keep alive.
The other two no votes were already known. Susan Collins of Maine had long been vocal about her opposition to the plan since the Senate started took up health care, citing its cuts to Medicaid and removal of protections for people with pre-existing conditions. Alaska's Lisa Murkowski had kept her cards closer to her chest but was well known to oppose the GOP plan over Medicaid cuts, defunding Planned Parenthood and other issues. Throughout the week Senate Republicans spent voting on various leadership-backed health care plans, Murkowski and Collins lined up to oppose them.
All eyes were on the final vote, which they were also expected to oppose, but it was unclear if Collins and Murkowski had a third Republican to go along with them.
Few people expected McCain to be the one to join them.
And you can watch the dramatic moment the bill failed here.